Having an ATV is your ticket to the most colorful show on earth. Millions of trees all over the country are getting ready to shed their leaves as the nights get longer. Each species turns a particular color in the fall, creating a dazzling mix of yellow, red and orange. Cue up your all-terrain vehicle to see all the action up close in your neck of the woods. You can avoid the crowds and cover more terrain on an ATV than you would on foot. Use this guide to find the best leaf-peeping trails in the U.S. to experience the best of this special, albeit brief, time of year.
Prepping Your ATV for Fall
Check the weather before you hit the road to stay warm as temperatures cool. Don't forget to factor in the windchill. You will feel 15 degrees Fahrenheit colder when going 30 mph. 
Use lightweight thermal layers to pack in the heat without limiting your range of movement. Bring along a light windbreaker that you can easily take on and off depending on the time of day. 
Not all ATV parks offer rentals. They could also run out unless you make a reservation, so it's best to bring your own four-wheeler or quad instead. Winter could arrive sooner than expected depending on the region, so double-check with the park authorities to ensure that it's safe to ride.
If you haven't maintained or tested your vehicle since spring, it's probably seen plenty of wear and tear since then. Summer tends to be the busiest time of the year for most riders. Check individual components, replace/refill your fluids and replace faulty parts at the recommended intervals. Assemble the proper ATV riding gear to safely rake in the sights. You'll need a full-face helmet or half-face model with goggles to protect your eyes, gloves, boots and thick pants that you don't mind getting dirty.
Keep in touch with your companions as you ride with wireless off-road communication. The device automatically connects when in range, so you don't have to take your hands off the handlebars. There's bound to be plenty of debris on the ground as the leaves continue to fall. Coordinate with your crew in real time to steer clear of obstacles and unclear paths to make sure you know where you're riding.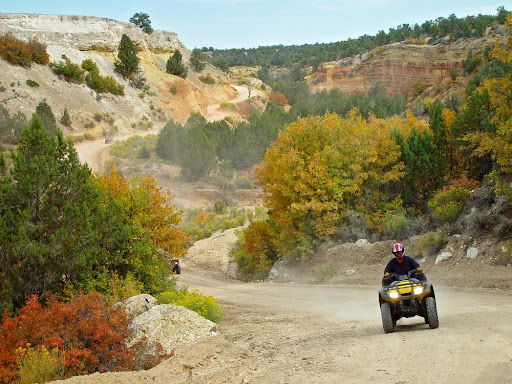 Where to See Fall Foliage
Strawberry Ridge/Currant Creek Trail System – Utah
Weaving between Currant Creek Peak and Red Creek Mountain, this vast network of trails offers sweeping views of the Western Plains. It features a healthy mix of species, including pines, oaks, maples and aspens, for more color contrast. The peaks get up to 10,000 feet or more, but the incline comes at a gradual pace. You'll find plenty of remote hiking, camping and riding spots throughout the hills that will make you feel like you're the last person on earth.
Ride the Wilds – New Hampshire
The name gives you a good idea of what to expect and the Northeast's largest ATV park doesn't disappoint. It's home to over 1,000 interconnected riding trails with a diverse range of scenery, including mountains, rivers, streams and open vistas. The path can get rugged in places with a blend of paved, gravel and dirt roads. Always stop and turn back the way you came if the route is impassable. 
Hatfield-McCoy Trails – West Virginia 
Head south to enjoy fall weather later in the year. This group of off-road trails is about as challenging as it gets with steep inclines, tight turns and crisscrossing byways that can easily wear your brakes thin. With over 700 trails, the park has plenty of moderate and beginner trails for riders of all ages and experience levels. It connects various remote towns complete with lodging, dining, shopping and refueling stations. The mountains make for the perfect photo op, especially around sunset. Just make sure you get back to camp before dark. 
Alpine Loop Trail – Colorado
Perfect for day trips, the Alpine Loop Trail attracts a mix of nature enthusiasts and fair-weather ATV riders with its majestic scenery and easy riding. The path is only 63 miles long, moving from Silverton to Lake City, but you will encounter plenty of other folks along the way, especially during peak leaf-peeping season. Be prepared to stop for slower riders and those less experienced than you.
Oconto County – Wisconsin
This remote part of the state best known for its dairy products is a bit of a hidden gem among the ATV riding community. The county hosts over 450 riding trails that take you through deep woods, farmlands and pastoral valleys. The best part is you can drive for hours without seeing another rider. That makes it a great spot to see local wildlife. Your main obstacle will be navigating downed trees in the aftermath of a storm.
Experience Fall Foliage on Four Wheels
Autumn is arguably the best time to ride an ATV. Plan a trip to one of these fall trails when the leaves start to change to watch the process unfold.