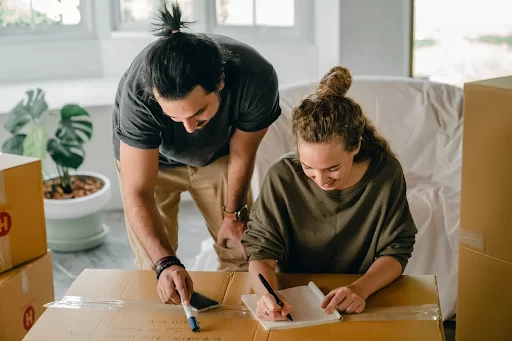 Moving can be frustrating if you do not properly plan it beforehand. From packing valuables to arranging transportation, it can be difficult for you to keep track of everything. Choosing a professional moving company with a proven track record is a must to move smoothly. It can simplify the entire process and save time and effort, allowing you to focus on other important activities. However, to choose the best moving company, you must know different factors that can heavily impact your move. Let's find out what things we should consider to hire a moving company.
Location-Specific Research
Doing location-specific research is the first and most important step in hiring a moving company. You should assess the previous record of the company to know their credibility. You should be aware of what type of moving services you need by determining things like transportation, quantity/size/weight of luggage and distance for relocation.
Annually, millions of people move in the US from one state to another. For example, according to a study, 3.2% of residents moved from Colorado in 2022. Since many people are migrating from Colorado, you can find reliable movers to suit your needs. If you want to move from Colorado Springs to a distant city, look up Colorado Springs long distance moving companies to compare quotes from different companies and decide on the basis of your budget.
Recommendations of People
Doing research may not be enough to help you find a reliable moving company. The recommendations of your family, friends, and peers can provide you with useful insights. Nothing can give you a better idea than the personal experiences of the people who have already used moving services in your area. Reach out to them and know what they recommend. It is possible that the people you consult had a bad experience with a top-rated company. Similarly, there is also a possibility that someone had a great experience with a company that is not well-known. Therefore, consulting people in your social circle can help you get better suggestions.
Good Feedback
After shortlisting the companies, check their online reviews to learn more about them. People leave their feedback when they have outstanding or substandard experience, which can make your search easier. If you find more than two or three bad reviews of the company, then consider it as a red flag and skip to another option. The ratings and reviews help you know the track record of the company. A company that has been operational for the past few years and provides quality services should be your first choice. Furthermore, feedback from people helps you know whether a company is ensuring fair rates and taking care of possessions or not.
Transparent Charges
When you contact mover services, they will quote you a rate based on multiple factors. Remember that this rate is not fixed and can vary according to your requirement for additional packing materials. If you have mostly heavy objects, then rates can be higher. Contact the moving company to get the estimate of rates on the phone. By getting a general idea of the total cost, you will be able to create a budget accordingly. Furthermore, ask what can cost extra charges. If you think the rates are not fair, move on to another option.
A Perfect Fit for your Needs
The requirements of every mover are different. If you are moving into a studio apartment or a three-bedroom house, you have to ensure that the company can fulfill your needs efficiently. Considering your needs, ask the right questions to make the right hiring decision. Firstly, you must know whether a company has the right means of transportation that can transport all your valuables safely. Another thing to consider is whether a company can provide packing supplies like garment boxes and bubble wrap. More importantly, you must know about the availability of the company in a time window when you have to move.
Good Customer Service
You can know the credibility of any moving company by the quality of their customer care services. You are going to hand over your valuables to strangers, so you have to hire a company that you can trust. One of the best ways to determine the effectiveness of a company's customer care service is accessibility on different platforms. It includes mobile phones, emails, social media platforms, and in-person consultations. If a team is responding to your queries actively and paying close attention, then consider it good customer service.
License and Insurance
Anyone with a moving truck can portray themselves as a moving company. The company you hire must be insured and licensed to ensure transparency and avoid any fraud. It is a simple process to know whether a company is licensed or not. If you want to move from one state to another, you can visit the website of the US department of transportation and check the company's DOT number. If you are moving in-state, check the license database to know the company's status of insurance and license.
If a company is licensed and insured, it means that it will provide protection for your property. It also provides assurance of providing compensation if your property is damaged during the move. Remember that companies with a good background are legally insured and licensed. They take full responsibility for your items, which makes the moving process stress-free.
Conclusion
Moving can be a daunting process if you are managing everything on your own. But if you have hired a company with a good track record, then it can simplify the entire process. While hiring a company, you have to pay attention to keep track of different things. From the recommendations of people to the company's customer services, you have to focus on different aspects. Additionally, good feedback from customers can also help you determine the credibility of the company. By following these tips, you can understand what things you need to consider while hiring a moving company.