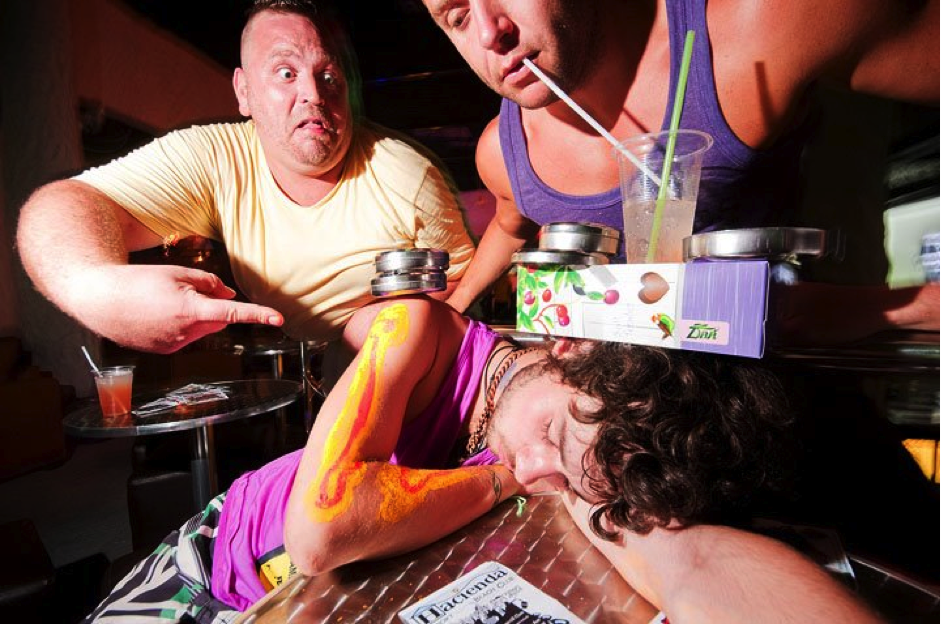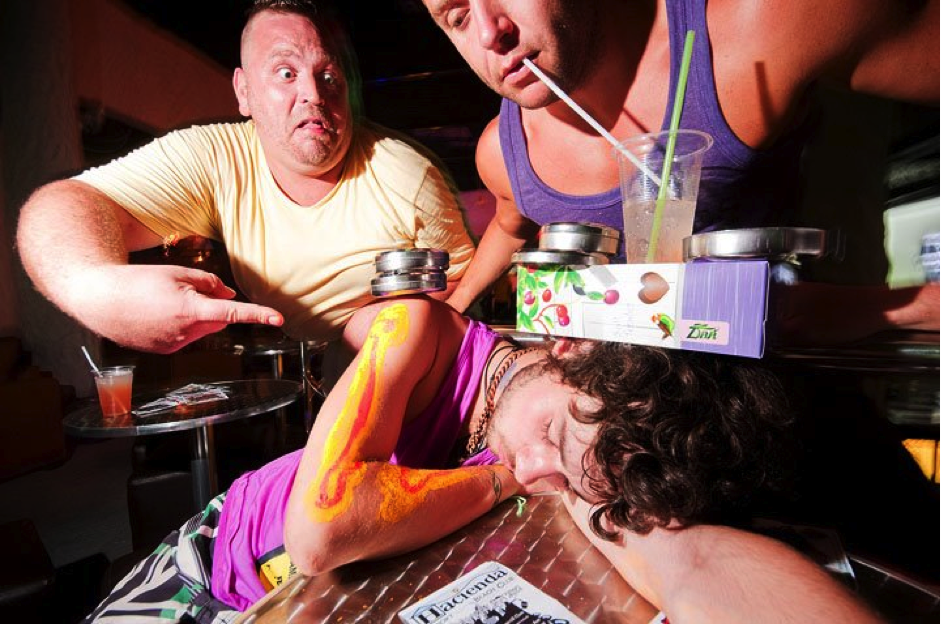 Guest post from Kiri Bumpkin of TravelBumpkin. A former resident of Koh Phangan, Kiri recounts how buckets of booze sold at the island's notorious Full Moon Parties can lead to permeant scaring – both mental and physical.
Synonymous with the world famous beach party of Koh Phangan is the tempting yet often evil, bucket.  Buckets come in every flavour imaginable, enticing you in with its huge capacity of booze, its novelty and let's face it; it's a cheap way to get hammered.
Becoming a Full Moon Regular
Fast forward four years and I found myself on Koh Phangan, the home of the ultimate Full Moon Party.  I lived on this completely mad, yet absolutely beautiful island for five months, attending five full moon parties. The first time I went easy and told myself I would have one but share it with my boyfriend.  By the end of one, you always want another and I think we ended up sharing three or possibly even four.  Result?  Hangover to rival all hangovers. No permanent scars though, so all good.
The second, third and fourth time I was working in a nightclub.  Often making buckets and watching customers progressively make royal fools of themselves.  But hey, all in good fun and I could hardly talk as I was rather sloshed behind the bar.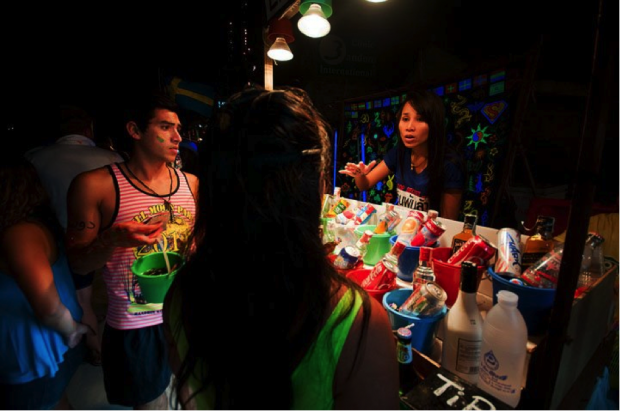 The last one I was at, I witnessed the result of one too many buckets and a massive brawl ensued.  Not fun.  Sometimes buckets filled with half a bottle of whisky make some men rather aggressive.  Just saying. They can often make women rather careless too.
In my entire time on the island, rumours occasionally circulated of women waking up completely oblivious to what had happened the night before.  Some realised that something rather disturbing had happened to them.  I don't need to go into the details but it's probably the one thing women fear most in the world. This is when travel and sex turns sour.
You won't like this story but I think travellers need to hear it…
A friend of mine found a girl in a bush the morning after one of the parties.  She had just woken up and had the terrifying realisation that she had been date raped. She was battered and bruised and had no memory past drinking her first bucket.  The girl was so disturbed that she refused to do anything bar book her flight home.  She was at the start of a round the world trip.
When I heard this, all my female friends on the island grouped together to make sure when we went out, we always did the following:
Drink Safe: Booze Bucket Guidelines
– When buying your bucket, always watch it being made.  Make sure everything that is put in it is poured from a sealed bottle/can. Drinks have been known to be spiked by both locals and tourists so keeping a constant eye on your drink is essential.

– Never leave your bucket/drink unattended – girls I know you know this but you'd be surprised how often we forget the more boozed we get.

-Yes, a lot of single people come to the island for sex and there's nothing wrong with that. Go forth and bonk I say!  But just remember that other age old warning, if you accept a drink from your fantasy bloke, go with him to the bar.  That way you can not only make sure he's not an arsehole by slipping something dodgy into your drink; you can also have a bit of a chat too.  Ah the ability to chat… such a luxury amongst the sound systems of Haad Rin Beach.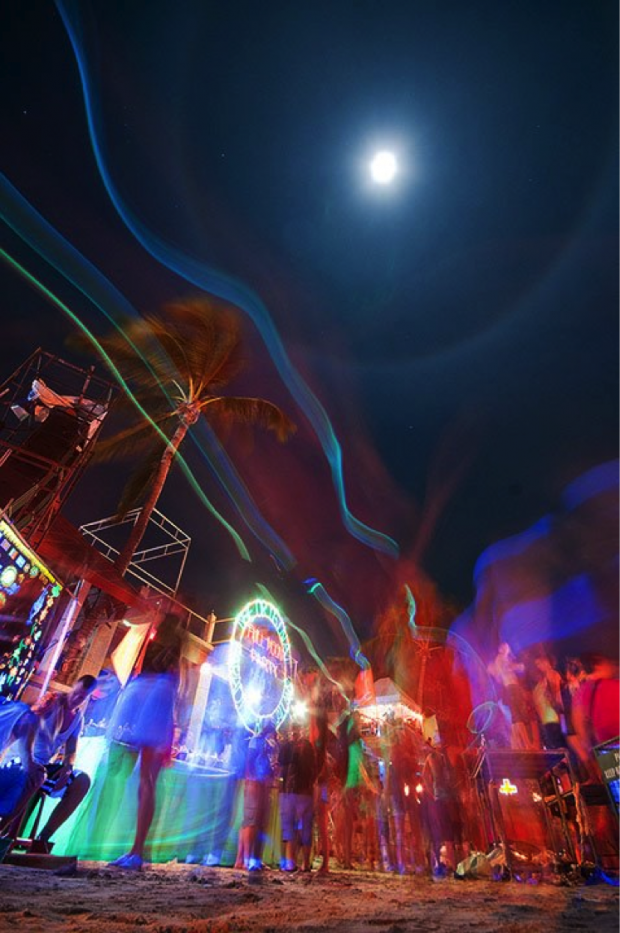 I can thank my lucky stars that I was always cautious, did the above and came away unscathed.  I have nothing but happy (well some rather hazy) memories.  I can't, however, help but think of the handful of women or even unwitting men (yes it can happen to you too) who weren't so lucky. It doesn't happen often and there is definitely more of a police presence at the events but sadly the odd nightmare will come true.
I hope this little warning tale doesn't scare any of you off.  Koh Phangan's parties are legendary and on most of your bucket lists.  With a bit of caution, the worst thing that can happen will be the stinking hangover in the morning and realising that your beer goggles of the night before were definitely faulty.

About the Author: Kiri Bowers
Travel Bumpkin & Gap Daemon blogger. Gallivanting the globe for a year so far. Food fanatic. Book bonkers. Will sell soul for air miles.
Photos: © Roscoe Duncan
Full Moon Parties seem to be a hotbed of travel hook-ups. Bad and good travel sex experiences happen on this same stretch of beach a monthly basis. Have you had a good / bad experience at a Full Moon Party? Let us know in the comments below.