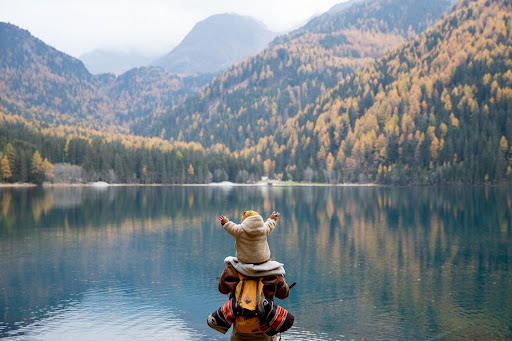 So, you're off on your first family vacation with the new addition – a baby! While packing everything, including bottles and diapers, may seem daunting at first, it doesn't have to be. With just a little preparation and planning, you can ensure that even though your family dynamic has changed, traveling is still an enjoyable experience for you all.
Here are some tips for making your first family vacation with the newest bundle of joy as stress-free as possible.
Pick a Destination Carefully:
The days when you could pick a random spot, book a hotel room and go are gone. Now that you're traveling with an infant, it pays to be picky. With a baby on board, you might be saving up, right? Look for resort towns that offer family-friendly activities, such as museums and theme parks, so you can all have fun in the sun.
Besides picking a family-friendly destination instead of one fit for bachelors, you must also consider expenses. You might be saving up now that there's a baby onboard. Pick a spot that isn't far from home, and neither a flight nor a road trip will cost much.
If you're looking for recommendations, Gatlinburg, TN, is an excellent spot for families with toddlers. You could book a cabin far away from the noisy downtown and enjoy the beautiful scenery of the Great Smoky Mountains. And when it comes to some fun, Ripley's Gatlinburg welcomes travelers of all ages with its famed aquarium, museum, and mini golf course. Additionally, a ticket to Ripley's Aquarium is free for children under the age of 2, and you could get $2 off on adult tickets if you book online!
Pack Wisely:
Babies require a lot of stuff. While you may want to bring the crib and kitchen sink, don't overpack. Instead of lugging a bunch of gear around, consider renting items from a baby equipment rental agency. This way, you'll have everything you need without the extra weight and storage cost.
If you're flying, make sure to bring enough diapers and formula for the duration of your trip. It is also wise to bring a couple of extra outfits and plenty of wipes in case your little one has any accidents.
Choose the Right Accommodations:
No matter when how soon after having the baby you're traveling, if you're a parent, relaxation is critical. Look for hotels, resorts, or vacation rentals with extra amenities such as cribs, baby monitors, and bottle warmers to make feeding time easier. Also, opting for accommodations with a kitchen or a refrigerator can help you save money on eating out.
But let's not forget your comfort too. Book a room with enough space, a comfy bed, and pillows to make you feel at home. After all, you deserve some R&R too!
It'll also pay to look for hotels that offer kid-friendly activities like pools and playgrounds. You can take a dip or grab lunch while your little one plays in the pool or swings away.
It's best to book in advance to avoid any heartbreaks.
Keep Travel Time Short:
Babies, like adults, can get cranky during long drives or flights. Plus, stomach issues and ear popping aren't too pleasant. So, if you want to make your vacation enjoyable, keep the travel time short and sweet.
If you must fly, book a direct flight. This way, your baby won't have to endure multiple take-offs and landings.
For road trips, make frequent stops along the way. These mini-stops will allow you to feed or change your little one while they're calm and comfortable.
You'll need to plan your itinerary well to ensure you have everything under control.
Keep Your Baby's Routine:
You invested a lot of nights and days into getting your baby on a routine. And while it's tempting to forget that routine during your vacation, try to stick with it.
It will make life easier for you and your baby, as they'll be used to the same schedule and won't get over-tired. So, if they eat every 3 hours, then make sure to plan your activities around meals and naps.
You'll also want to bring familiar items from home, such as stuffed animals and blankets, to help your baby feel less out of place.
Make Feeding Time Easy:
Whether breastfeeding or bottle-feeding, you're stressing about how to feed your baby on the road. A breast pump makes things easier if you're breastfeeding, as it allows you to express milk ahead of time and feed your baby while you're out.
The best part? You can also store the milk in a cooler, so your baby has enough to drink during vacation.
For bottle-feeding moms, there are now a variety of travel-friendly bottles on the market. They are lightweight and easy to carry, so you don't have to worry about adding too many pounds to your luggage. You can also buy ready-made formulas, eliminating the need to travel with bulky containers of powder and water.
Pro tip: Sectioned formula holders are a lifesaver.
Be Realistic:
Vacations probably still bring flashes from when you sipped margaritas by the pool all day and hiked for hours without worrying about taking a nap. But now, with a baby in tow, you'll have to adjust your expectations.
Choose activities that are realistic and tailored to your baby's needs. Prioritize your little one's health, safety, and comfort so everyone can enjoy the vacation.
For instance, a family swimming session with all the required safety gear is better than a day at the beach in the hot sun.
The bottom line is: don't try to fit too much into your vacation. Relax and go with the flow while enjoying all the fantastic sights and sounds your vacation offers.
Final Thoughts:
Vacationing with a baby might seem challenging, but parents who have experienced it first-hand confess it's actually quite enjoyable. You get to witness your little one's reactions to the sounds and sights of a new place and watch them become more familiar with the world.
Just remember to plan and bring everything you need to eliminate stress from your vacation. And don't forget to take lots of photos – you'll want to remember this special time for years to come!