Nestled on the southeastern coast of Florida, Boca Raton beckons travelers with its allure of sun-drenched beaches, a vibrant cultural scene, and an abundance of recreational activities. This cosmopolitan city is renowned for its upscale lifestyle and natural beauty, making it an enticing destination for visitors from around the world. Whether you're a beach lover seeking relaxation, a history enthusiast delving into the past, or a foodie eager to savor culinary delights, Boca Raton offers a rich tapestry of experiences to satisfy every traveler's desires. 
Boca Raton's prime attraction lies in its pristine coastline, boasting miles of white sandy beaches caressed by the crystal-clear waters of the Atlantic Ocean. Whether you're in search of a serene escape or an exhilarating adventure, the beaches of Boca Raton provide the perfect setting. Picture yourself basking in the sun, listening to the gentle rhythm of the waves, or diving into the refreshing surf. The warm, tropical climate ensures year-round enjoyment, allowing visitors to embrace outdoor activities throughout their stay. 
In addition to the natural and cultural attractions, Boca Raton offers a world-class shopping experience. It also caters to families with its array of recreational options. In this article, we'll explore ten incredible places you must visit when traveling to Boca Raton.  
1. Mizner Park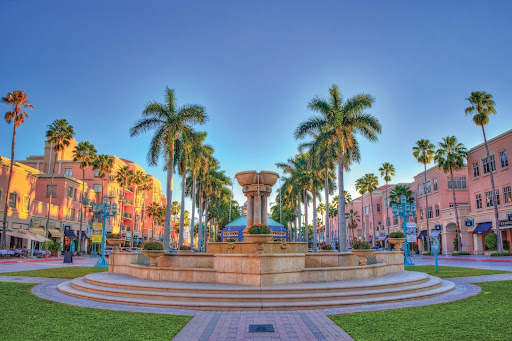 Who doesn't love shopping? Yes, you can indulge in Mizner Park at Boca Raton to enjoy the shopping. Located in the heart of downtown Boca Raton, Mizner Park is a premier destination for shopping, dining, and entertainment. Stroll along the European-inspired streets lined with trendy boutiques, art galleries, and upscale restaurants. Catch a movie at the iPic Theater or enjoy live performances at the Mizner Park Amphitheater, an open-air venue hosting concerts and cultural events throughout the year.  
Mizner Park is not just about shopping and dining; it is also a cultural hub. The Mizner Park Amphitheater hosts a variety of concerts, live performances, and cultural events, providing a lively atmosphere for visitors to enjoy. Additionally, art enthusiasts can explore the numerous art galleries and appreciate the works of both local and international artists. Whether you're seeking retail therapy, a gastronomic adventure, or a dose of culture, Mizner Park offers a delightful experience that combines luxury, entertainment, and sophistication in the heart of Boca Raton. So, pack your bags, book the boca raton private jet charter and embrace the warmth of the Florida sun, and embark on an unforgettable journey to explore the best of this place. 
2. Gumbo Limbo Nature Center 
For nature lovers, a visit to the Gumbo Limbo Nature Center is a must. This coastal preserve is home to a diverse range of plants and animals, including sea turtles, butterfly gardens, and a boardwalk through a tropical hammock. Explore the marine aquariums, attend educational programs, and take a leisurely walk along the beach to soak in the serene surroundings. 
As you explore the nature center, you'll encounter lush tropical hammocks, serene mangrove forests, and breathtaking oceanfront views. The highlight of Gumbo Limbo is undoubtedly its commitment to marine conservation, particularly its efforts in sea turtle rehabilitation. Visitors can learn about these magnificent creatures through educational programs and even witness the rehabilitation process firsthand. The center also boasts a series of captivating aquariums, home to an array of marine life, providing a closer look at the underwater world. Stroll along the elevated boardwalks that wind through the preserve, offering panoramic views of the surrounding landscape. Along the way, you may encounter colorful birds, butterflies, and other native wildlife that call this coastal sanctuary home. Gumbo Limbo Nature Center not only showcases the beauty of nature but also educates and inspires visitors to protect and preserve the delicate ecosystems of South Florida. 
3. Red Reef Park 
Offering picturesque views and abundant marine life, Red Reef Park is a paradise for beachgoers and snorkelers. The park features a beautiful beach with clear blue waters and a well-preserved coral reef just offshore. Snorkelers can enjoy exploring the vibrant underwater world, while others can relax on the sandy shores or take a stroll along the nature trails. 
However, what sets Red Reef Park apart is its well-preserved coral reef just offshore, making it a haven for snorkelers and diving enthusiasts. Don your snorkeling gear and immerse yourself in a vibrant underwater world where colorful coral formations and a kaleidoscope of tropical fish await. The crystal-clear waters provide excellent visibility, allowing you to observe the fascinating marine life in their natural habitat. Even if you prefer to stay dry, you can still appreciate the breathtaking scenery by taking a leisurely stroll along the shore or simply relaxing on the soft sand. Red Reef Park also offers nature trails that wind through coastal hammocks, providing an opportunity to explore the local flora and fauna. With its captivating blend of coastal beauty and underwater wonders, Red Reef Park is a must-visit destination for nature enthusiasts and beach lovers alike in Boca Raton. 
4. Morikami Museum and Japanese Gardens 
Step into a tranquil oasis at the Morikami Museum and Japanese Gardens, where you can immerse yourself in the beauty of Japanese culture. The Morikami Museum and Japanese Gardens in Boca Raton is a captivating destination that transports visitors to the serene beauty of Japan. Set amidst lush greenery, the gardens are meticulously designed, showcasing traditional Japanese landscaping art.  
As you wander through the six distinct gardens, you'll be enchanted by the harmony of nature and the exquisite attention to detail. Discover the delights of a strolling garden, where meandering paths lead you past picturesque bridges, tranquil ponds teeming with koi fish, and meticulously pruned bonsai trees. The rock garden evokes a sense of calm and contemplation with its carefully arranged stones. The gardens also feature a vibrant bamboo grove, with rustling leaves creating a soothing symphony. Every turn reveals a new vista, a carefully composed tableau showcasing Japanese aesthetics' elegance, and tranquility. The Morikami Museum, nestled within this idyllic setting, offers a deeper insight into Japanese culture through its collection of art and artifacts. 
5. Town Center at Boca Raton 
This luxurious shopping destination houses over 200 stores, including high-end brands like Louis Vuitton, Tiffany & Co., and Gucci. Enjoy a day of shopping, dine at gourmet restaurants, and catch the latest fashion trends in this elegant mall.  
This upscale mall offers a shopping experience like no other, where world-renowned brands and exclusive boutiques converge in a refined atmosphere. As you step into Town Center, you'll be greeted by an ambiance of elegance and style. Impeccably designed, the mall's spacious corridors are adorned with high-end retailers, ranging from luxury fashion houses to fine jewelry and accessories. Stroll through the hallways and indulge in the latest fashion trends, discover unique pieces of art, or explore the finest home decor and furnishings. The attention to detail is apparent in every aspect, from the exquisite window displays to the personalized service provided by attentive staff. Alongside the shopping,  
This also offers a culinary journey that tantalizes the taste buds. Gourmet restaurants and chic cafes serve a wide array of culinary delights, catering to the discerning palates of its visitors. Whether you're seeking a delightful meal, a quick coffee break, or a decadent dessert, the dining options within the mall are sure to satisfy your cravings. Town Center at Boca Raton is more than just a shopping destination; it's a haven of luxury and refinement that offers an unparalleled experience for those seeking the finest things in life. 
Conclusion 
Boca Raton is a captivating destination that offers a blend of natural beauty, cultural experiences, and recreational activities. Whether you're seeking relaxation on pristine beaches, exploring vibrant gardens, or immersing yourself in art and culture, this city has something for everyone. From Mizner Park to the Boca Raton Resort & Club, each place on this list offers a unique and memorable experience. So, plan your trip to Boca Raton and get ready to embark on an unforgettable journey.