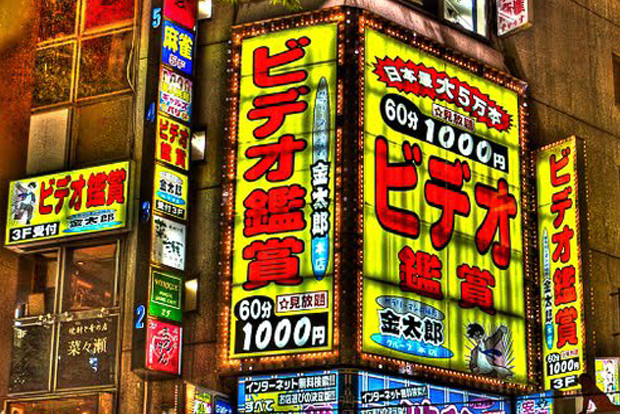 You've been planning this trip to Japan for ages. In your head, you had planned to learn some basic Japanese. You imagined walking off the plane, flirting with a group of high school girls, riding a rickshaw into town, practicing some kind of martial arts on a wooden bridge overlooking a waterfall, meditating at a Buddhist temple, and taking a nap under some cherry blossom trees, resting your head upon a geisha's bosom.

It's going to be the best three days of your life.
Until you heard whispers. And those whispers turned into research. And that research confirmed that you could, indeed, legally pay for sexual services in Japan.
Fuck cherry blossoms, now you just want to have sex with a Japanese girl, don't you?
Alright. Let's spice up your TravelSexLife. But let's go about this ethically and thoughtfully, shall we?
Is the Japanese Sex Industry Legal?
Prostitution is illegal in Japan; however, the definition of prostitution is strictly limited to coitus (penis penetrating vagina). That is to say, oral sex, anal sex, intercrural sex, and just about anything else non-coital are legal and good to go. Thus, in Japan, prostitution is not technically synonymous with the sex industry. The establishments of the Japanese sex industry are well-known (and easy to find), but they co-exist with traditional Japan establishments as an open secret. They're there, but you don't acknowledge them in polite company (even though they are more respectable than coital prostitution).
Many towns in Japan have red light districts, wherein one can find a variety of different sexual services. You'll have options, ranging from getting a private room to masturbate to a DVD, to paying for a host or hostess to flirt with you for a few hours, to engaging in anal sex. Establishments such as these are known as Health (pronounced "Heh-ru-su") establishments. And they are legitimately legal – until they're offering vaginal intercourse.
What Kind of Services Can I Get? What Can I Pay For in a Health Establishment?
69. Handjob. Blowjob. Cunnilingus. Analingus. Anal sex. Intercrural sex. Sumata. Washing your body with breasts. S & M. Costume of choice (if you ever wanted Pikachu to beat you off, the Japanese sex industry can hand you your shot).
Note that there isn't a consistent base in services and prices – what may cost extra in one business (tittyfuck [known as Pai-zuri]) may come standard in another. Some places let you choose the person whom you want to play with, while others may charge a fee for selection. for more details visit here.
A few services include:
Soaplands – Where you can take a bath within the establishment with a Japanese girl (or guy), get soaped up, and other sexual services.
Fashion Health – Where you can get a private room within the establishment, wait for the Japanese girl (or guy) to show up, who will then perform agreed-upon sexual services.
Delivery Health – Where you can order a Japanese girl (or guy) to your hotel (paying the traveling fees, of course), wait for their arrival, upon which they'll perform sexual services.
Hotel Health – Where you goes to the establishment, select a Japanese girl (or guy), and go to a specific hotel nearby and wait for their arrival, upon which they'll perform sexual services.
Erotic Massage – Where you go into the establishment for a massage, and then get "unexpected" sexual services.
Soft Masochist Club – Where you can get a private room within the establishment and receive S&M sexual services.
Half-Health – Where you can meet with a transgendered employee who will perform sexual services.
Host / hostess club – Where you can pay to have a staff sit with you and flirt (usually not attached to a sexual service, but there are exceptions to any rule).
(a variation on all of these places is an Image Club, where you can pick that Pikachu costume I mentioned earlier)
More options than you were expecting, right?
A Few More Things to Know About the Japanese Sex Industry
It's not all fun and games. The Japanese sex industry is, unfortunately, a beacon for commercialized sexual exploitation in the form of human trafficking. Victims (including women and children) come from areas all over Asia, as well as Eastern Europe, Latin America, and even Russia. As Tokyo is regarded as one of the top trade cities of the world, it is sadly home to thousands of cases of human trafficking abuse.
In the chance that you were to go about legally obtaining the services of a Japanese Soapland, for example, please do spend the time to investigate whether or not the staff are there willingly. If they're clearly not, report it. Any company offering vaginal sex is doing so illegally, and could possibly be involved in human trafficking. Be on the lookout for signs of abuse, as well as women who are clearly underage.
And… well… by the way…
If you're not Japanese, most sex establishments will straight-out turn you away with: "No foreigners!"
"What! You said I could have sex with a Japanese girl, Travel Sex Life! You promised me!"
Ah – no, I didn't. I said most sex establishments will turn you away – not all. There are definitely establishments that will accept you. But first, there are a few things you should know.
It's important to throw out your sense of entitlement before you venture towards any of these clubs. There is a damn fine reason these places don't like foreigners, and (I think) it's because of this:
1) There have been numerous attempts to force vaginal penetration upon the employees of the Health establishments.
2) The language barrier.
Don't be an asshole. You're not going to have coitus. And if you are in an establishment that offers coitus, you need to vacate and report it.
Where Do I Begin?
If you want to get some more background on human trafficking in the Japanese sex industry check out Jake Adelstein's work at Japan Subculture.
If you want to proceed, follow the guide at This site has a How-To-Get-In as well as a Where-To-Go guide that should keep you 100% in the clear. They've also got a glossary of different sexual services that you'll want to print out and keep with you, in case a member of the staff asks you for your preferences.
Legally, you should be good to go. Ethically, morally, well, those in polite company won't acknowledge you.
What do you think? Is paying for sexual services something you'd like to try, or does the mere fact that Japans sex industry establishments distrust foreigners mean that we shouldn't even be trying? Let TravelSexLife know in the comments!