You've just gotten engaged, you've taken some time to relax and celebrate, and now you need to go back to planning everything. Depending on how much time you mustactually plan out your own wedding, the atmosphere may be completely relaxed, or you may find yourself rushing from one obligation to another, trying to make everything work on short notice. Less planning time also means giving up on certain ideas you may have had, but you'll surely get to organize the perfect event when you put enough effort into it.
Whatever the case is regarding the planning time, that is, no matter how quickly you would have to do this, one thing you won't be able to give up on is the location. Heard of destination weddings yet? Experiencing a dream destination wedding could be exactly what you want for your big day, or it could be something you're just now getting acquainted with, looking to find out if this is something you'd like to have organized or not.
Sounds quite interesting, doesn't it? Heard of this option before, but not entirely sure you understand what it is? Well, how can you decide if you want it or not, if you don't even understand how this works? There's nothing complicated about it, though, so I'm sure you'll get to easily understand what destination weddings are, as soon as you get them defined and explained.
By definition, a destination wedding means having the ceremony and the reception held someplace other than those where the bride and the groom live. It's as simple as that. It is an opportunity for the bride and the groom to celebrate their weddings in a destination they have always dreamed of. Doesn't have to be outside the country, even though some couples prefer doing that too, but simply a location outside your hometown that both of you will love. And, nowadays, couples are increasingly choosing destinations based on which ones are special to them, and not only based on their appeal.
Why Destination Weddings Are Becoming Popular
Get what destination weddings are? Sure you do! One question, however, still remains. Why are they becoming so popular nowadays? Isn't this a sort of a hassle – leaving for a completely new destination and inviting all of your guests there as well, instead of staying in the area you live in and having the reception there? I understand why you may think this way in the beginning, but that's simply because you haven't exactly given these kinds of weddings much thought.
Read about some reasons why you should consider it: https://insearchofsarah.com/8-reasons-why-you-should-consider-having-a-destination-wedding/
Multiple reasons why destination weddings are becoming popular, and if you give them some thought, you'll realize that they could be the right option for you. For starters, when you decide to have the ceremony and the reception in a completely different location, you'll have to be concise with your guest list, meaning no unnecessary invitations will be sent out, even though your parents might want that. Depending on the resort you choose, you may have to narrow the list down.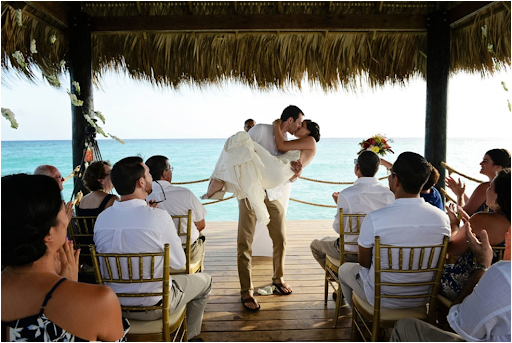 Speaking of making that choice, isn't it just so amazing that you can choose a destination and not worry about the weather? Put differently, you'll most likely choose an area in which you know the weather will serve you well on your desired days. Of course, this may not always be the case, as some couples have certain locations that mean a lot to them and that could be rainy throughout the entire year, but I'm sure you'll make it work.
Another reason why these are becoming a popular option is because you get to relax regarding all the planning. How come? Well, most all-inclusive resorts that you can choose for your destination wedding offer all-inclusive packages that allow you to sit back and relax, watching your wedding being planned out perfectly, without you getting frustrated in the process. Of course, if this is something you'd like, you'll have to choose a planner, which is also becoming a popular solution.
Perhaps the biggest reason why these are increasing in popularity is the fact they are so fun and so different from what we are used to when weddings are in question. The unique ceremony and the unique reception you'll organize this way will leave nobody indifferent. Basically, destination weddings are those that are remembered and talked about long after they've been organized. So, it's no wonder their popularity is on the rise. Click this to learn both about the pros and the cons.
Benefits of Having a Destination Wedding
How can you exactly benefit from having a destination wedding? In various different ways. For starters, just imagine your photographs in one of those amazing locations you'll choose. The backdrop can turn out to be epic, and instead of simply creating photographs, you'll create the perfect memories. Sometime in the future, when you start looking back and going through those wedding photos, you'll love the fact that they are so unique and special.
One more benefit lies in the fact that destination weddings are usually much more intimate. While there is not exactly a limit on your guest list, as a rule, these tend to be smaller and much more intimate. You get to enjoy your day with the people you really want to be there and share the experience with you, and it will be easier for your guests to get to know each other when the wedding is smaller.
You'd think that this is extremely expensive, but here's the thing. You could actually wind up saving money, depending on the destination you choose. And, not only could this cost you less than it would in your local venues, but you'll also get a built-in vacation, which is definitely an enormous benefit, as every bride and groom need a vacation both prior to and after their wedding. So, you can choose your location based on where you want to vacation afterwards, killing two birds with one stone, so to speak.