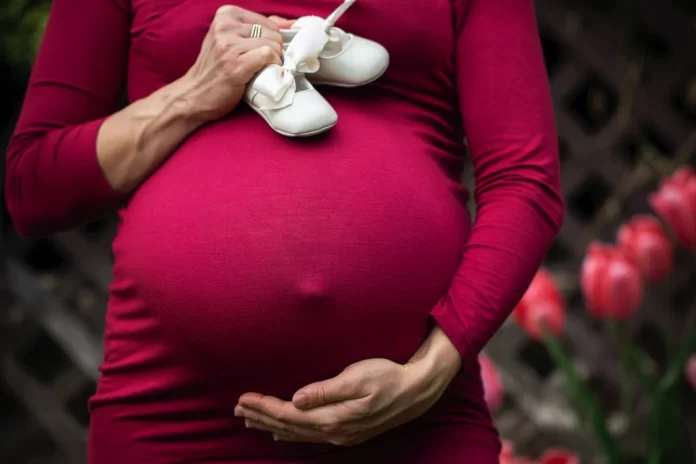 Versatility is a must-have when building out your maternity wardrobe. Shopping looks that you can wear on multiple occasions are essential to sustain a low-maintanence, effortless style. You will more than likely find days that putting effort into your style is just not in the cards. Maternity dresses help you feel put together without the work.
As a pregnant mom, maternity dresses are the quintessential piece that will not only keep you comfortable but look effortlessly chic. Fill your closet with maternity dresses from Hatch that you can dress up and dress down so you can get the most of your pieces.
The Eliza Dress
The Eliza Dress is Hatch's best-selling maternity dress for a reason! (And no, it's not just because it's been worn by Meghan Markle). This black midi-length dress is incredibly comfortable and has the right amount of stretch to fit as your bump grows.
A little black dress is always a must-have for any wardrobe and the Eliza is no different. The fitted style is perfect for adding a chic blazer or cardigan over to elevate the look for nighttime wear. For daytime, wear it alone with a pair of comfortable shoes.
The Cosette Dress
A floral dress may not be groundbreaking but it is certainly always in style. The Cosette Dress is a must-have for any expectant mom. The smocked bodice provides great support for your bump and gives you the versatility to wear it off the shoulder or as flutter sleeves.
The Cosette comes in two colors: Blue Floral or Spring Bloom Floral. It's the perfect option for a baby shower dress or a gender reveal party, whether it's a casual garden party or fancy dinner event.
The Softest Rib Nursing Dress
The best versatile maternity wear is a piece that you can wear during and after pregnancy. The Softest Rib Nursing Dress is just things! The gown-like style of the dress – which comes in black, white, and blue – is super soft and incredibly comfortable for mamas and mamas-to-be. The romantic style gives you a chic look no matter what the occasion.
The dress is nursing-friendly with a snap front placket that makes breastfeeding a breeze. You'll get tons of use out of this dress.
The Carolina Dress
Being pregnant during any time of year can be uncomfortable for expectant moms. Add in the heat of the summer and there's a whole new level of discomfort. That's why finding comfortable dresses to wear to help keep you cool is essential and the Carolina Dress does just that!
Made with a soft, double gauze fabric, the Carolina feels lighter-than-air. This dress comes in four colors: white, buttercup, poppy, and black. You'll want to get every color to enjoy the comfort this dress delivers! The Carolina can be easily dressed up or down as you transition your look from day to night.
The Slouch Dress
The ultimate versatility in maternity dresses can be found in the Slouch Dress. From day to night to loungewear, this dress is perfect. With dolman sleeves and a stunning side drape, this dress delivers the ultimate comfort for pregnant women.
Throw on this cozy dress to lounge around in the house. Pair it with fun leggings and some sneakers for a chic daytime look. Or, for nighttime wear, add on a stylish necklace and a pair of heels. This black dress is one that will tempt you to have multiples because you will never want to take it off.
Shopping for maternity clothes can be so much fun. Dresses are a must-have for pregnant moms because they're just so darn comfortable and give you a chic look, even when you don't feel like putting much effort into your style.