Looking for a new way that is both stylish and practical to glide through city streets, get some exercise, embark on adventures, and have fun?
Etrikes have redefined the way we experience the joy of riding, and one brand stands out among the rest: Addmotor. As a prominent name in the electric bike industry, Addmotor has consistently delivered innovative and budget-friendly products that cater to riders of all backgrounds. 
Their latest product; the Addmotor CITYTRI E-310 Electric Trike, combines style, performance, and comfort in a three-wheeled design that is not your ordinary electric trike. 
It is a revolutionary etrike with so many advanced features that make it stand out from the crowd and change the way you ride, giving you the ultimate riding experience. 
In this blog post, we will dive deep into the Addmotor CITYTRI E-310 Electric Trike and explore some of its features, and show you why it is the best choice for anyone looking for an electric trike.
Revolutionary Features of the Addmotor CITYTRI E-310
The Addmotor CITYTRI E-310 Electric Trike is packed with features that make it a unique and innovative etrike. Here are some of them:
Triple the Wheels, Triple the Power
With three wheels, you don't have to worry about balancing or falling off your bike, especially on uneven terrain or sharp turns. You can ride with confidence and ease, even if you are a beginner or have mobility issues.
Efficiency Meets Performance
Another feature that makes the Addmotor CITYTRI E-310 adult electric trike a powerful trike is its electric motor. 
The equipped 750W brushless hub motor with 90 Nm torque and 1400 W peak watts delivers smooth, reliable performance, a dynamic riding experience, effortless acceleration, and a top speed of 20 mph.
Its 7 levels of pedal assist (PAS) let you adjust the acceleration according to your preference and riding conditions. This makes the CITYTRI E-310 electric folding trike ideal for commuting, touring, or recreational riding.
Battery Brilliance
A key player in the E-310's exceptional performance is its innovative battery technology. The CITYTRI E-310 adult electric trike uses a UL-Certified Samsung Cell 48V*20Ah high-capacity battery. 
The battery provides up to 90 miles of range on a single charge, so you can ride all day long. This cutting-edge battery system offers more than just extended rides; it redefines convenience.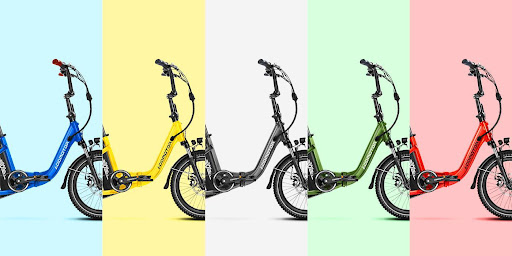 Advanced Technology for Safety and Convenience 
The CITYTRI E-310 electric folding trike doesn't just stop at the basics. It's a masterpiece of innovation, boasting features that elevate the riding experience.
Rear Differential:

This e-trike is designed with a rear differential mechanism that allows the rear wheels to rotate in varying speeds and directions. This gives the CITYTRI E-310 Electric Trike more traction, stability, and performance.

Parking Brake System:

Its parking brake system locks the rear wheels when you park your trike, stop for a break, or run errands. This prevents your trike from rolling away or being stolen. 

Integrated Button:

With the integrated button on the handlebar, you can access different functions of this e-trike conveniently. This is convenient and secure, as you have intuitive control at your fingertips, which simplifies operation.

Folding Mechanism:

Considering the practicality of the portability, the CITYTRI E-310 comes with a folding mechanism that allows you to fold the trike in half for easy storage or transport. You can fold the trike by loosening a knob and pulling a lever on the frame. The folding process takes only a few seconds and does not require any tools.
Design for Comfort and Utility
Long rides become a breeze with the CITYTRI E-310's ergonomic design elements.
A U-shaped adjustable handlebar that can be customized to fit your height and posture guarantees a pleasant journey. It also has a lower seating position with an adjustable backrest that provides support for your back and better stability and control.
To further ensure a stable and enjoyable journey on different terrain, this Electric Trike incorporates a front Suspension Fork with 80 mm of Travel that absorbs shock and bumps on uneven surfaces. 
Moreover, the trike's utility-focused features, such as spacious cargo capacity and thoughtful accessories like a horn, a bell, a headlight, a taillight, a fender, etc., make it a versatile companion for daily commutes, errands, or leisurely rides. 
Advantages That Set Addmotor CITYTRI E-310 Apart Over Its Competitors
The CITYTRI E-310 is not only a feature-rich etrike, but also a competitive one. It has many advantages over its competitors in the electric trike market. Here are some of them:
Unmatched Affordability
Affordability meets excellence with the Addmotor E-310. While delivering exceptional performance and top-notch features, the CITYTRI E-310 remains UNDER $2000, making the world of etrikes accessible to a wider audience. 
This cost-effectiveness doesn't compromise quality; it enhances the value proposition for riders seeking an extraordinary ride without breaking the bank.
Three Different Models to Choose From
One of the standout features of the Addmotor E-310 electric folding trike is the flexibility it offers to riders with its three distinct models: CITYTRI E-310 standard, mini, and plus. This range of choices ensures that every rider can find the E-310 model that perfectly aligns with their riding style and requirements.
Innovative Design and Engineering
From frame construction and head tube design to seat post thickness and color choices, meticulous engineering shines through. 
When compared to competitors like the Lectric XP trike and Radpower Rad Trike, the CITYTRI E-310 outshines them in critical areas such as battery performance, PAS level integration, 5-in-1 tail light functionality, speed capabilities, advanced controller features, and front suspension sophistication.
Tailored Riding Experience
The CITYTRI E-310 adult electric trike isn't a one-size-fits-all solution; it's a versatile ride that caters to diverse riders. Features like adjustable handlebars and saddles ensure a personalized fit. The integrated button simplifies operation, and the folding design enhances storage convenience. 
Embrace the Future of Riding with the Addmotor CITYTRI E-310 Electric Trike
The CITYTRI E-310 electric folding trike opens the door to a whole new way of riding, where style, performance, and comfort come together for exciting adventures.
From its tricycle design, efficient motor, and advanced battery system to its innovative features and versatile models, the Addmotor E-310 embodies the innovation and quality that Addmotor stands for.
Whether you're a senior seeking stability, a commuter in search of efficiency, a recreational rider looking for exhilaration, or an enthusiast chasing top-notch performance, the Addmotor E-310 has a model tailored to your desires. 
With choices like the CITYTRI E-310 standard, mini, and plus models, each suited to different riding styles, Addmotor ensures your ride is uniquely yours. 
So, don't let the opportunity slip away; make the Addmotor E-310 Electric Trike your companion in transforming ordinary rides into extraordinary adventures.