Wondering how to give him butterflies and make him fall more irrevocably in love with you? From your undivided attention to your feminine charm – there are innumerable ways to entice him.
In every relationship, some display of affection is necessary to keep the spark alive. Just like the fair sex, men like to be pampered. They appreciate the little gestures of love that give them tingly sensations.
Whether it is your anniversary or your man's birthday – you can always make him feel special.  Stay tuned to learn some fantastic ways to make his belly flutter and secure your place in his heart.
How to give him butterflies with your sweet and naughty gestures
Everyone appreciates when a loved one shower them with attention. But few have mastered the art of inspiring happy jitters in someone special.
So, here are some fantastic ideas to make your guy blush:
Flirt with him on the phone
Seduction is an art, and the way you speak plays a crucial role in it. Your man loves to hear your voice over the phone.
He has the widest grin on his face each time your name pops up on his mobile screen. And with a little bit of effort, you can leave him craving for more.
For instance, address him by his name occasionally. It instantly makes things intimate. Humming the tune of his favorite song will also do the trick.
So, now you know how to give him butterflies even when you aren't physically with him.
Compliment your partner
Complimenting someone doesn't have to be restricted to their physicality only. There are so many things you like about your lover. But how often do you tell him that his personality is appealing?
How often do you share with him that his voice drives you crazy? You have no idea how pleased he'll be to hear those things.
You should also praise his efforts when he does something nice for you. However, remember that there's a difference between flattery and compliment. So, do not overdo it.
Smell nice
Whenever you are close to your lover, he recognizes you by the perfume you wear. You should select your fragrance cautiously as it changes when coming in contact with your body.
Perfumes often trigger erotic emotions. Your smell lingers even when you are not in the room. These small tricks can lead to massive pleasures. He will chase you and plant faithful kisses on your tender neck.
Send sexy texts to make him yearn for your presence
Getting your man's attention is not that difficult. How do you make your spouse miss you when he is at work? Naughty texts are something that he just can't ignore.
Not sure how to give him butterflies over text? Tell him how you enjoyed a rejuvenating shower.
Let him know that the lacy lingerie you ordered just got delivered. You may also share with him that you shaved your legs and you know where else (ahem). These texts are hacks to bring your hubby back home sooner!
Take your paramour on a long drive
The easiest way to woo your man's globetrotting soul is by taking him outdoors. Going on a long travel to the mountains and beaches isn't always possible. So, a long drive is much needed after a tiring week.
It breaks the monotony and helps you reconnect. Hence, leave behind the chaos of the city and unwind together to some old tunes. You will also have the leisure to discuss various things. Make sure you explore different routes to bring variety to experiences and scenery.
Exercise together
Adulting is hard, and you must make time for your partner smartly. Exercising is a great way to stay fit and grow as a couple. It allows you to spend time with your husband despite your hectic schedule.
You two can choose any form of exercise. Cycling, yoga, working out at the gym, and swimming are some stimulating activities. You will notice that your man is in a lovey-dovey mood after a fulfilling workout session. No wonder couples who exercise together stay happier.
Run your fingers through his fabulous hair
How to give him butterflies without doing anything extraordinary? Here's a simple trick that always works like magic.
A man is bound to go weak in his knees when his girl does anything with his hair. So, when he returns home exhausted, caressing his head is all you need to do.
If he frequently complains of headaches, use essential oils to soothe him. He will reward you with kisses when you're done massaging.
Take him on a dinner date
It is stereotypically for men to plan dates. This time, give him a pleasant surprise by taking the lead. Nothing is sexier than a confident woman who takes charge.
Take him someplace with a romantic ambiance. It can be your favorite Chinese restaurant or a chic rooftop café. No matter how busy you both are, you must make time for these little moments of togetherness.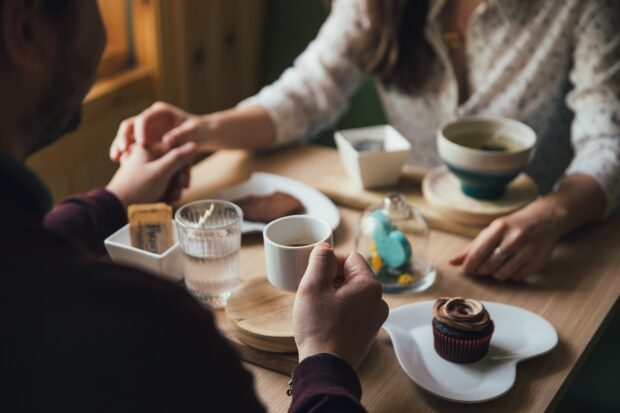 Dance with him
Dancing is a brilliant way of reigniting the flame. As per relationship experts, it gives mutual pleasure and promotes closeness.
It increases compatibility as two souls move in harmony. Moreover, it is impossible to feel romantic when a melodious song is playing in the background, and you two are in close contact. To make it even more special, wear matching outfits or turn on the dim lights.
Give a tight hug
Want to be the reason behind your partner's joy? Pondering on how to give him butterflies? It could be as easy as giving him a long and tight hug.
While lukewarm hugs are comforting, men are suckers for tight embraces. To melt his heart at once, rest your head on your shoulder.
Maybe he doesn't express it, but he is delighted each time you do that. Resting your head on his chest/shoulder symbolizes your trust in your mate.
Be playful
Men are fun-loving creatures. They enjoy playfulness. They find things like flirtatious winks beguiling. And nothing's more desirable than a woman with a sense of humor.
Each time you make him laugh, he loves you a little more. There are unlimited ways to make your man laugh. You can play innocent pranks. You can crack some inside jokes or do something foolish.
Give adrenaline spikes
There's a close connection between butterflies and adrenaline rushes. The human body releases adrenaline in moments of anticipation and excitement.
A person feels invigorated and alive when adrenaline levels are high. Here's how to give him butterflies by planning an adventure outing:
Arrange something like skydiving, kayaking, or a balloon ride. Instead of revealing the destination, create some mystery. Be bold and spontaneous to sweep your consort off his feet.
Prepare his comfort food
Every person has his comfort food. It is something that instantly lifts one's mood and is healthy at the same time.
It could be something sweet or savory. And who knows better than you what dishes your man relishes the most?
So, welcome him home with a nourishing bowl of chicken soup or spaghetti with meatballs. Later at night, he will tell you how blessed he feels to have you.
Maintain eye contact
Your eyes are beautiful. Your boyfriend forgets all about his worries when he gazes into your lustrous eyes. And good eye contact can be immensely powerful. So, when he is staring at you from across the hall, don't shy away from holding eye contact.
Instead of being coy, smile at him with your angelic eyes. You can even wink, but make sure you escape the watchful eyes of the teacher. So, how to give him butterflies at school? You already know the answer.
Use your femininity
One effective way to soften a man's heart toward you is by tempting him with your physical beauty.
Femininity is all about celebrating your natural qualities and not being hesitant to flaunt them. This is one tactic that can never backfire.
You can wear something that enhances your shape. Your partner will feel captivated when you dress up for him. He will be so thrilled that he might pick you up.
Psychological mirroring
You two are in the same room but is he lost in his thoughts? Do you want him to drop his work and cuddle with you? Well then, put your mischievous self to some work.
Psychological mirroring is a cute tactic that involves mimicking his body language. Observe how he sits, walks around, or scratches his chin.
Imitate his gesture, speech patterns, or posture. He will find these things endearing and wrap you in his arms.
Send a steamy selfie
How to seduce your guy on the phone? Sexting is pleasurable, but there's more you can do. This time, how about raising your game?
Send him a sensual photo to arouse his carnal self. You can wear his white shirt and leave the first two buttons open.
You may exhibit the bottom half of your gorgeous body. Mess up your hair to pose like a seductress. Good lighting is essential when you are clicking inviting selfies.
Offer verbal praises
Everyone needs to hear affirmative words, not just at work but also from loved ones. Positive remarks boost a guy's confidence.
Affirmations reveal that you are not blind to his efforts. They make him feel valued and revered. So, whenever you get a chance, express gratitude.
Tell him how you look forward to spending time with him. It will reawaken tenderness and strengthen your bond.
Gift him framed photos
How to give him butterflies on your 10th anniversary? Life can be a fairytale when you spend it with the right person.
You have created unforgettable memories with your significant other. Some of the best memories are the ones you made on vacations. But how often do you get the chance to browse those pictures on the laptop?
Framing some of the best pics clicked in scenic backgrounds is an excellent way of revamping an empty wall and pleasing your man.
You will have fun picking the photos. And when he sees them, he will be reminded of his uninterrupted time with you. He might end up planning another fantastic trip.
Reciprocate his love language
All have their unique ways of showing devotion. While some people cook for their partners, others take them shopping.
Making love or spending time can be another way of deepening feelings. Discovering your companion's love language will be like hitting a jackpot.
Notice what he does when he wants to enchant you. Chances are, he expects you to do the same things.
For instance, if physical touch is his love language, holding his hand in public will send tingles up his spine.
Wear his favorite color
What is that one thing your man cannot resist? How to give him butterflies without even speaking? It's when he spots his favorite color on you.
If he likes the shade red, then your job is easier. It is a magical color that plays a key role in triggering attraction.
It is the shade of passion, youthfulness, and excitement. The message conveys that you are daring and sure of yourself. Moreover, every woman has plenty of red clothes.
Make sure you apply crimson lipstick and paint your nails scarlet to complete the look. You may also incorporate red accessories into the hair. Do this, and your guy will be infatuated with you for the rest of the evening.
Final Thoughts
So, now you will never run out of ways to make your spouse's heart skip a beat. Irrespective of what you do, just remember that you are enough. He admires you the way you are. But sometimes, it is essential to make him feel some flutters.
You both should nurture the connection that you have. And it is for you to decide how you feel comfortable to show your love. It is you who knows the best what your man wants. So, don't worry. You have it all figured out!