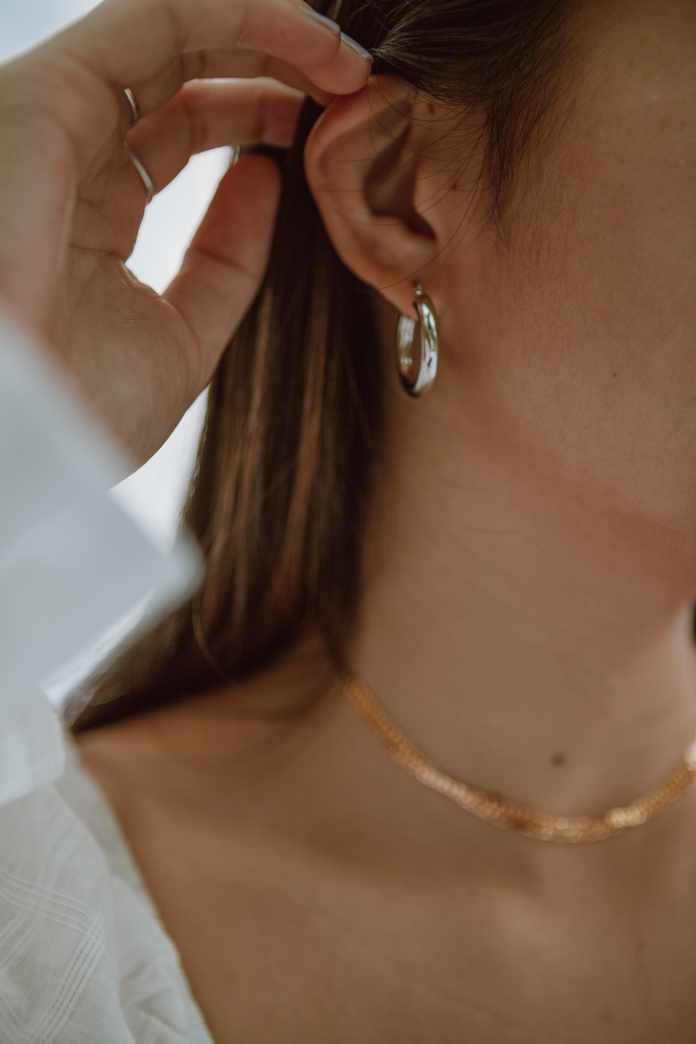 A tragus ear piercing is definitely a fun choice and one that is in vogue. Today there are a lot of celebrities that sport this trendy ear curated piercing. It is definitely a showstopper of any party. This particular look is bold, vibrant, and creative. It allows the wearer to accentuate the earrings and compliment the dressing with different and versatile styles. Today, with fashion dominating the virtual world, it helps people understand how to style it.
What are the types of tragus earrings that can brighten up the mood?
The next social media post or your Instagram look will surely be with the tragus piercings. Since this style is booming, many designers showcase their talent with a lovely stack of earrings. If you have run out of space after piercing the ear lobes, you still got a place to style, all thanks to the Tragus.
Types of tragus earrings:
Stud

: If you are looking for a tragus piercing, you can easily opt for stud earrings. They are small and fit appropriately in the Tragus and add sparkle to the face. These tiny earrings glam up the look simultaneously; they are ideal. Studs can be extremely adventurous and styled conveniently.
The other important point to keep in mind while investing in a stud earring is the back. Since the Tragus covers the ear canal, there is less space for the back of the earring. Therefore it is best to choose the ones which have a flat back. It helps to heal and also doesn't block the ear.
The barbell:

It is a small earring with a thin bar connected with balls on each side. The diameter of the bar can differ based on the size of the piercing. These are extremely tiny, and they are the first choice for beginners. Also, these are a great option for initial piercing as they are easy to maintain and clean.

Hoops:

They are very popular and offer a variety of styles. They are, however, best after the wound is completely healed. There are unlimited options to style the Tragus with hoops. They are also easy to manage and compliment any dress.
How to startle with your Tragus piercing look?
Today with the enormous options in curated ear piercings, get that edgy look with tragus piercings. Go the extra mile to show the wild side of yours with unique and trendy jewelry.
Diamond: Now, choreograph your entry with the glittery diamond stud earrings. Please don't settle for less when you can have it all. These real sparkly studs glitter every moment. With the soft shine, they will surely make heads turn. You can pick the carat ranging from 0.3 CT because it has limited space; you obviously can't put a block of a diamond.
Diamond options: Long rows of studded diamond rings offering unparalleled oomph factor. Shiny studs in unique designs like floral, animals, zodiac, abstract, musical notes, etc.
Gold: Gold is a precious metal known for its quality. Its purest form makes a brilliant ornament. Additionally, no other metals or hypo allergens irritate the skin, and it is one of the most intelligent investments. It is durable and suits every skin type. Some amazing unconventional designs strike the right balance between quirkiness and elegance.
You get similar options to the diamonds. For example, hoops, studs, and barbells. Some unique designs include tiny danglers.
Pearls: Feel just as fresh as the aqua with the freshwater pearls. The classic earring is best for a subtle date night, office party, or family gathering. They come with a 14k carat gold stud earring with 3mm pearl. They go extremely well with any color of your outfits, whether the pretty red dress, the black staple one or the classy neutrals.
The new trends in Tragus piercing aptly designed for a glitterati
Single or Double Tragus and Conch
You can liven it up with a combination of either a single tragus piercing with conch or double Tragus. Today styling depends on individual interest. And anything striking is appreciated. Therefore you can design a combination with studs or barbells for Tragus and conch. Additionally, the color palette is a boon that enhances the look to complement the outfit. Since the piercings come in simple and unmatched gemstones, there is a huge room to explore in terms of fashion. Opal, ruby, sapphire, emerald, and many other options are available to recreate and reinvent the panache.
Make an extravagant combo – Daith and Tragus
The ridge present exactly above the Tragus is Daith. In daith piercing, the piercings are done through the ridge. It is also one of the most fashionable ear adornments. With daith and tragus piercing, you can get a bold look. They can be customized with the same jewelry. One can choose the same design and material for both of the piercings. For example, if the daith piercings have a gold studded hoop, they can be matched with the same ring on the Tragus. In fact, due to the ear curation fame today, there are sets available in the market. For instance, you can get a complete set of jewelry pieces for daith, Tragus, and basic earlobe earrings.
Targus plus fully stacked ear
Liked the Scarlett Johansson look, well, you are one among the millions of fans who are mesmerized with her fully stacked ear with tragus piercing. Get that red carpet look with multiple diamond studded earrings and make a remarkable signature appearance. It is definitely the showstopper with rightly matched attire.
Tragus Snakebite piercing:
Double up the bling factor with the famous snakebite piercing. It is the most requested type of piercing. You would get two piercings vertically, just like the snakebite.
To sum up:
There are plenty of options available for people looking for tragus piercings. Keep in mind a few pointers like the labret, the length, and the comfort. However, make sure that you take proper care of the wound when it is done. Of course, once it is healed, there's no looking back. You can add as much shine as possible to create a radiant ensemble. The piercing muse is irresistible, so attempt this flamboyant style this New Year.