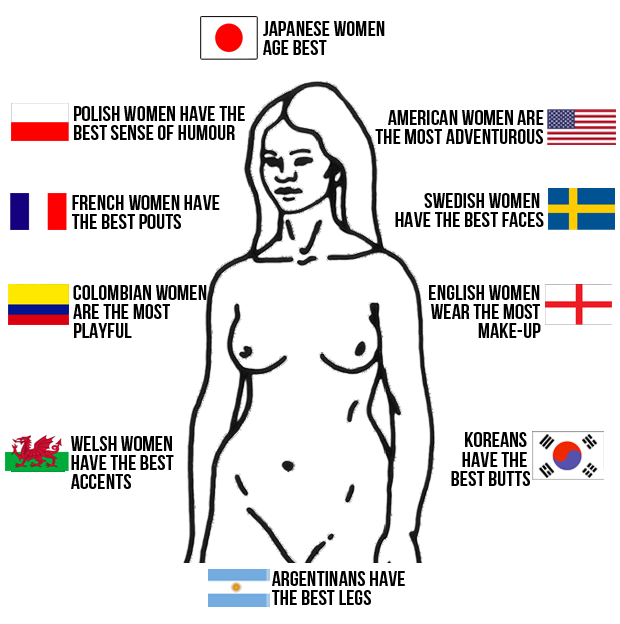 Following up from our 'International Man of Sexiness' article we decided to turn the tables and ask the male travel blogging community their favourite features of the fairer sex from around the world. Above is a graphical representation of our findings, and below are the individual comments.
Anthony Middleton
Polish women tend to have a really charming, cheeky and confident sense of humour. Funny + confidence = there is no better formula for sexy. Latina ladies also have that air of charisma and playfulness, but more of an alluring body language. I think I'm just going to stop there, before I get carried away.
Chris Walker-Bush
I find Kiwi girls to be irresistible if only because they pronounce
'six' as 'sex'. It's like dirty talk even when you're discussing money
matters!
The craziest sex I've ever had has been with American girls. There's
something about the college lifestyle that just makes them DTF and
down to try anything behind closed doors. Ladies in the street and
utter freaks in the bed.
Physically, I can't go past the Dutch. Tall, statuesque girls with
gorgeous accents and they're almost always bikini clad when they're
downunder. Yes, please!
Korean girls are utterly beautiful and wonderfully demure. The culture
of subservience means that Korean girls are selfless in bed, but that
can make things a little boring.
Ed Rex
Americans are adventurous but they are very crazy! I'll never forget that sleepwalker…
Canadians are outdoorsy and know how to camouflage themselves…
Swedish have the best faces, very tall for my liking and are up for anything!
French are so grumpy, but they have the best pout enough to rival Mick Jagger's.
South Africans are strong! Lean and F.I.T!
Argentinans have the best legs especially after all that dancing!
Welsh have the best accent…I drool.
English? – they are transformers. One hour in the bathroom and they look totally different!
Johnny Ward
"I can't get enough of South Koreans, sweet, feminine and as an assman, I'm in heaven!"
Samuel
I consider myself to be a well travelled individual but I honestly can't think of ladies more gorgeous than the ones found in Buenos Aires, Argentina. Known locally as portenas, it at times feels like you're witnessing a catwalk parade on the streets.
I've heard recently from many others that Medellin, Colombia is a digital hotspot. Apparently, they weren't referring to just the wifi connections.
Will Peach
Once you go Scandinavian, or to be more precise, Icelandic, you never go back. The men are giant beasts and the women are like genetically modified experiments of Lord Byron and Hugh Hefner. Get your end away with one of them and you'll be set for life.
Brendan van Son
Although the Brazilian women may be the sexiest looking women in the world, there is no women in the world that do it for me quite like Colombian women. Yes, they are gorgeous but they also have this playful personality that make them hard to resist. Other than that, a posh little British or Southern US drawl accent will get me to do just about anything. Oh god, now you got me going…