Thailand is one of the most attractive tourist destinations around the world. Before COVID 19 Pandemic, Thailand received almost 40 million tourists in the year of 2019, and the number was expected to increase in 2020, however, the Pandemic Slowed down the growth. Thailand is a very large country, and has many destinations that are worth visiting. However, you will not be able to cover the whole country in only one visit. In this article, we will be highlighting the 4 Must see Places when Visiting Thailand so you can plan your next trip accordingly. 
Koh Nangyuan and Koh Tao – Surat Thani
Koh Nangyuan and Koh Tao are 2 small islands located in Surat Thani Province in the southern part of Thailand. You can visit these 2 islands in a day tour Departing from the nearby islands such as Koh Samui or Koh Phangan. Koh Tao is known as the best Destination in Thailand and one of the best around the world for Scuba diving and snorkeling. The Ocean in this area is rich with many beautiful colorful corals and Fishes. 
In addition to snorkeling, you can also enjoy swimming in the crystal clear waters and white sandy beaches at Koh Nangyuan island and enjoy an amazing view of this tropical paradise. 
Accommodation is also Available in Koh Tao in case you want to spend several nights on the island, which is also recommended. The island is very well known for European backpackers, therefore you will find many hostels and budget hotels operating on the island. However, premium accommodation options are also available in Koh Tao, you will be able to find 4 and 5 stars hotels in case you are looking for a more comfortable and premium holiday. 
Khao Yai National Park
Khao Yai is one of the largest national parks in Thailand. It's Located not far from the capital Bangkok, only around 2 and half hours drive. Khao yai has many unique accommodation options, for example, you can stay in a luxury Tented African Style resort, or stay in a normal resort with an amazing Mountain and garden views. 
There are many things to see and explore in this amazing National Park. First of all, you can take a Safari ride and start Looking for the wild animals that live in Khao Yai. You will be able to see Asian Elephants, Hornbill birds, Snakes, Lizards, Monkeys, Gibbons, Deers and many more species. 
In addition to the animals, you can also visit the Beautiful waterfalls located inside Khao Yai National Park such as Haew Suwat and Haew Narok Waterfall. 
Most of the tourists who visit  Khao Yai National Park, only visit it throughout a One day Trip from Bangkok, however, staying for several nights in Khao Yai is also very recommended so you will be able to explore the most out of it.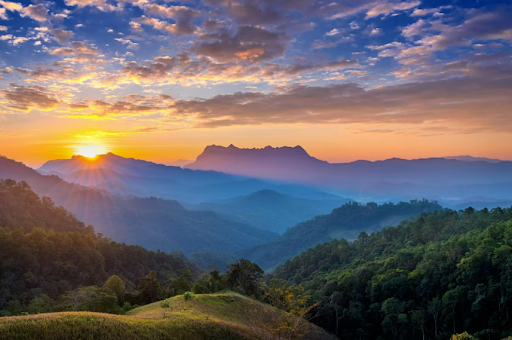 Chiang Rai
Chiang Rai is Located in the Very Northern Side of Thailand. There are many things to see and explore in this province. Chiang Rai is Famous with the Amazing Temples such as the White and the Blue Temples. In addition to the Temples, you will also find many Villages for the Hmong Hill Tribes and Longneck Communities, therefore you will be able to get in touch with the local culture more in Chiang Rai during your Visit. Many People Stay in Chiang Mai and only visit Chiang Rai in a Full Day trip and come back to chiang Mai on the same day, However it's very recommended to stay in Chiang Rai for a couple of nights especially in the Golden Triangle area.
The Golden Triangle is Located in Chiang Saen District in Chiang Rai. It's Called as the Golden triangle because in this part of the country, the Borders of 3 countries meet together in the Mekong River (Thailand, Myanmar and Laos). 
There are several luxury Hotels operating in Chiang Saen with amazing views of the 3 countries. Among these hotels, we can mention Anantara the Golden Triangle in Chiang Rai and the Four Seasons, They are both recommended to be included in the Luxury Thailand Honeymoon packages. 
Kanchanaburi Province
Kanchanaburi is a Province located around 3 hours drive from Bangkok. This province has many attractions and sightseeing that can be explored. Several People Visit Kanchanaburi from Bangkok in only a One day trip to explore the city's main highlights, however it's highly recommended to spend a couple of nights there. 
You can visit Erawan Waterfall, which is one of the most beautiful waterfalls in Thailand consisting of 7 different levels. You can enjoy swimming in the natural clear waters of the waterfall, and climb to the highest level that you can. 
You can also visit the historical attractions of Kanchanaburi Such as The Bridge over the river Kwai, Kanchanaburi Cemetery, and the Death Railway. 
Another great thing to do while in Kanchanaburi (in case you are staying for more than one day), is to overnight in one of the floating Hotels on the river Kwai, that's a really great experience that you should try.