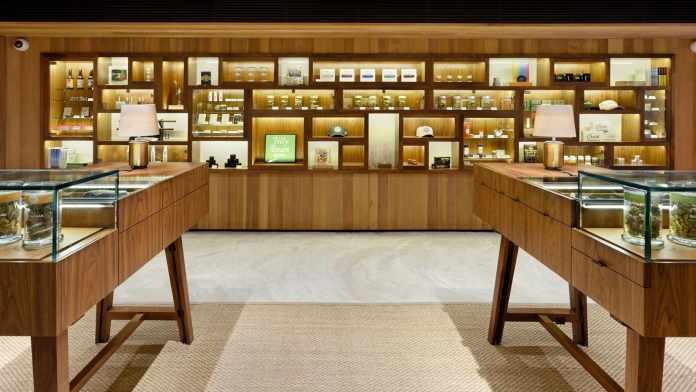 There is an unfortunate misconception that purchasing marijuana has to be done at some sketchy store in an alleyway. Nothing is further from the truth.
As legislation becomes more relaxed, marijuana is attracting more mainstream clientele. Luxury and boutique shops are popping up everywhere.
Buying marijuana should be a pleasant experience, and nothing affects that more than the shop design. Here is a list of the coolest dispensaries in the United States.
1.The High End in Los Angeles, CA
When walking by the High End, you might not even realize that you're walking by a cannabis shop. The shop doesn't exclusively sell cannabis, so you wouldn't be completely wrong.
The High End advertises itself as a luxury marijuana and wellness shop. The store is part of Barneys New York.
The display looks more like a jewelry shop than a weed shop, and the prices reflect that.
There's nothing stopping you from going inside to take a look or even snapping a photo for your Instagram feed. Just beware of the prices.
The interest in high-end cannabis shops shows that the product is becoming more mainstream and that the taboo associated with cannabis is on its way out.
2.MedMen in New York, NY
Fans of the hit TV show Madmen will love this place. There are MedMen locations around the country, but the shop on Fifth Avenue in New York City is the best.
MedMen describes itself as the Apple store of cannabis, and it's easy to see why. The sleek design and approachable staff with their recognizable red T-shirts are reminiscent of the Genius Bar at Apple.
Though a bit pricier than your average dispensary, the products at MedMen are worth it. They are certainly more affordable than the High End.
If you're looking for a MedMen near you, here is a list of cannabis dispensaries. You can search for one in a convenient location for you.
3.Paper & Leaf in Bainbridge Island, WA
This shop shows up at the top of just about every list of the best dispensaries in the country. Even if you can't make it all the way to Washington, looking at the website will show you why.
From the outside, Paper & Leaf looks just like a boutique coffee shop or hipster clothing shop.
The design is sleek with wood paneling. The colors are dark but discreet.
The font and logo catch your attention from the beginning. They only take cash, and they're medically recommended by local doctors.
On their website, you'll find good information about their products. Right now, they offer curbside pickup.
The best part is that pets are allowed! If you live nearby, swing in next time you're taking the dog out for a walk and give it a try.
4.Silverpeak Apothecary in Aspen, CO
Aspen may be better known for skiing and beautiful Alpine scenery, but thanks to the relaxed legislation in Colorado it's become a center for luxury cannabis shopping.
It's within walking distance from the Aspen mountain ski resort. If you're there to hit the slopes, you need to swing by.
They have deals that change every day, so make sure to catch them while they last. There is lots of information on their website about their products and offers.
If you're in Colorado but can't make it over to Aspen, you're in luck. Though the shop in Aspen has the best design, they have locations scattered around the state.
5.Grassroots in San Francisco, CA
Grassroots is famous in San Francisco for being the first dispensary in the state to join a union.
Shopping at Grassroots is a great way to support workers, but it's also super neat because of its design.
Even their website is impressive with its fancy font. The storefront is reminiscent of an old-fashioned apothecary shop.
It fits perfectly into a city known for its unique and colorful architecture. There are lots of things to do and buildings to see in town aside from Grassroots.
Conclusion
Cannabis-related tourism is on the rise. Shops are upping their game, and soon most dispensaries will offer personalized shopping experiences. But these stores were the ones to do it first.