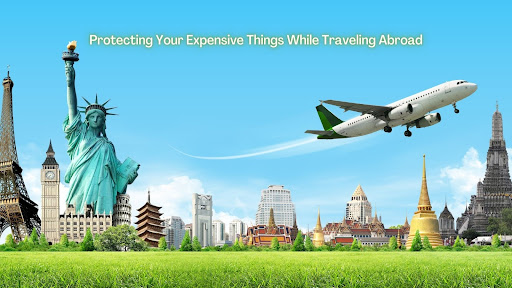 Preparing for a trip abroad is usually a difficult balancing act. You want to pack the maximum amount of clothes without making the luggage heavy. Also do you want to take your different types of jewelry like diamonds and gold for glam night ? But are you unsure of their safety? Do you have concerns about the application for US B1/B2 visa to enter the United States?

Sure, every trip comes with its set of worries. But remember that old saying that prevention is better than cure? That should ring true especially if you want to explore.
Putting in place some safety measures before and while on the trip will save you from glitches. In this article, we give you some tips to help you protect your valuables. The tips will ease your navigation for a stress-free and safe travel experience.
Keeping Your Valuables Safe While Traveling Abroad
Traveling abroad, especially to your dream destination, can be exciting. Sometimes it's a once-in-a-lifetime experience. That's why you should be careful not to ruin your adventure by becoming a victim of a robbery. Here are ways in which you can protect your valuables while traveling abroad.
1.Use a Travel Jewelry Case and a Daily Pill Box
If you travel frequently, consider investing in a travel case made for jewelry. The travel case or jewelry organizer doesn't have to be expensive. But a good one will have compartments to keep individual jewelry items. Do you remember the seven-day pill boxes that help in managing weekly pill doses? They are great for storing wedding bands for women, dainty necklaces, and small stud diamond earrings. The diamond stud earrings, for instance, are timeless and classic. Apart from featuring classic 4-prong screw-back posts, they also have 14kt and 18kt white and yellow gold. The box keeps these jewelry organized and tangle-free. You also get to have the jewelry in one place because the box is connected. The jewelry can also get protected by placing them in old prescription pill bottles. Then keep the bottles in a large ziplock bag.
2.Find Alternatives for Your Wedding Finger
What about your wedding day diamonds or proposal rings? Based on your travel destination or activities, it's best to leave your wedding ring at home. This is especially so if the wedding jewelry is flashier. Alternatively, you can choose to swap your wedding band for a less expensive travel band. This is important because the last thing you want to do is worry about losing your expensive jewelry. If you want the look of your wedding day diamonds, consider a look-alike at the fraction of the cost. Colorless or "white" gems such as white topaz and moissanite can play the part. But if you decide to travel with your diamond jewelry, it would be safe to set up jewelry insurance for them.
3.Don't Keep Your Valuables in Checked Baggage
Whatever means you use to travel, never let your valuables out of sight. Neither should you place them in the checked baggage that's taken to the storage hold of a plane.
That's because the person loading the bags can reach the bag and steal your passport, money, or laptop. You shouldn't place your bag on the underside of the bus either when traveling by bus. That's because someone can grab their bag and yours when getting off the bus, and walk off with it unnoticed. Travelers have had their valuables missing from their checked luggage or security checkpoints. This has also happened on tourist buses. The best place to keep your valuables is in your carry-on backpack and keep it with you at all times. Remember to wrap it around your arm or sleep on top of it. This will ensure that it's not taken away unless someone wakes you up.
4.Avoid Risky Situations
The world is a dangerous place and that's why it's better to play it on the safe side. This should be the case when protecting yourself, your valuables, health, and legal status.
When traveling, be on the lookout to identify risky situations. Below are common tourist scams that can put your belongings in danger: Thieves have a habit of leaving wallets in public to see where you're keeping yours. They will drop a wallet on the ground because you will likely check where yours is when you spot one on the ground. It makes it easy for them to reach for yours in the handbag later on. Someone can "accidentally" bump into you and spill something on your clothes. They will then offer to clean it. The truth is that they are looking for a chance to go through your pockets. A woman can throw her baby at you as a tactic to distract you. Meanwhile her accomplices will be going through your bag.
5.Carry Your Valuables Instead of Packing Them
The safest way to protect your valuables like specialized cameras is to carry them with you at all times. You can have them in a customized case that you slip under the seat. You can also stash the case between your feet. If your valuable items are small like credit cards, money, or your passport, hide them in a money belt. This guarantees that they are out of sight and on your person. Having your valuables on your person and staying awake during the trip ensures they are safe.
6.Get Two Hard Drives and Backup to the Cloud
Remember that not every valuable stuff you have is physical. Actually, digital stuff is the most difficult to replace. If you were to lose your credit cards, you can just cancel them and order new ones. If you lost your laptop or camera, you might replace them. But, you can't replace the photos from your once-in-a-lifetime trip to your dream destination. That's the reason you need multiple external hard drives kept in different places. It helps to minimize the risk of losing your treasured travel memories. Aside from the local backups, you must keep your photos and soft copy of documents in the cloud. This is the best way of ensuring the safety of your digital stuff.
Final Take Away
Risks cannot be avoided while traveling. That's because there are no guarantees of being 100% safe from threats. That means that you're bound to get scammed or robbed once you hit the road. That's why you must be careful to protect your valuables even if you're traveling within your home country. We hope the tips here will help you safeguard your items while on your next adventure. One of the ways to protect your expensive things in a new city is to use a reliable luggage storage service. Vertoe provides safe short-term storage space with insurance coverage of $5000 for your left luggage. Vertoe is present in 65+ cities over the world near all important landmarks. If you are in Chicago, check luggage storage Millenium Park for options nearby.