Dear Joe (let's call him Joe, shall we?)
You and I were the makings of Disney romance.
Well maybe not quite that prodigious, but at least a decent backpacker romance. I'll give us that much
It started innocently enough. I woke up in a dorm room in Cambodia after a night of too many Angkor beers and saw you across the room – disheveled but sexy. We both woke up groggy at the ripe hour of 9am, then made bleary, hungover eye contact. You asked me if I knew the Wi-Fi password. I gave it to you. That's where it began.
It was oh-so harmless at first.
We spent the next few days hanging out. Your accent had me weak in the knees. Your outgoing nature and love of a good time matched my own. We seemed like the perfect pair. Could you imagine? We even had the same travel plans for the next couple of months. We made quick plans to travel together.
I feared we might ruin a good thing by complicating it with romance. But after a night dancing together and again, too many Angkor beers, we were unable to deny the romantic vibrations we both felt.
I would end up painfully correct about complicating the heck out of things.
The beginnings were beautiful. We discussed just about everything – our pasts, our hopes for the future, our families, our biggest dreams, our fears. Nothing was off limits. We had amazing chemistry. That much we agreed upon.
Long bus rides felt like a matter of minutes because we had each other to talk to. You are, after all, a great conversationalist. We were drawn to each other. That much we voiced.
But then things just didn't quite work out. Mechanically, then mentally, and eventually it just fizzled.
And that would be okay with me. It would be just fine.
If only I could stop running into your ass. Your incredibly obstinate, awkward ass.
It's a basic fact of human social behavior that those on the Southeast Asian backpacker's trail tend to have similar itineraries and naturally run into each other over and over. Most of the time, I'm positively elated to see an old friend on the road.
But you, sir, have become no friend of mine.
It sure was an uncomfortable day when we parted ways. We said our pleasantries, but deep down, I hurt a little.
Then I ran into you two days later in the next town on the map, knowing it was a possibility, but figuring one city ought to be plenty big for the both of us.
Alas, there you were, in the dorm bed next to mine once again. Oh, the inhumanity! (Or we're both just cheap-asses who went for the only $2 dorm in town).
After an awkward hello, we pretended not to see each other when we crossed paths for the next 24 hours. We didn't hang out – not even for a minute. Did we even hug hello or goodbye? I doubt it. I think you just gave me the shoulder tap. The freaking shoulder tap!
I had seen it happen to others but never thought it would happen to me. I had witnessed the face palm and the "oh God, is that HER?!" moment that others experienced after a road hookup. I should have learned from their mistakes.
But I didn't.
I fell head first into something I promised myself I wouldn't – a backpacker relationship. I had heard they ended just as quickly as they started, but this one left me with whiplash.
And I KNOW you're in the next country I'm headed to. Could you just remain a step ahead of me, please?
Or be less fucking awkward? Thanks.
Okay, FINE, I'm being awkward too.
I promise to stop if you'll stop. Maybe we can rise above the awkwardness and just be friends.
Oh, who am I kidding? Maybe just run out of money and go home early? That'd be swell, too.
Love Respectfully Yours or some shit like that,
Ava
About the Author: Ava Apollo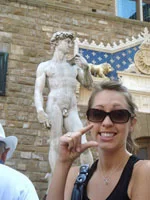 Ava is a former investment banker who quit her job, sold all of her belongings and bid the life she knew goodbye in favor of becoming a solo nomad in Asia. You can read more about her adventures on her site Be My Travel Muse.