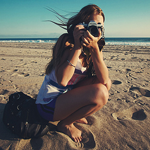 Surfing For Sex
The popularity of CouchSurfing as a tool for finding sex first came to my attention earlier this year when I placed an open request for a place to stay in Sao Paulo. I was approaching the end of my travels in South America and I thought spending the last few days with a local would be a nice way to end my trip.
Underestimating the hospitality of Brazilians, I placed the request a good two weeks before I was due to arrive in Sao Paulo. I quickly received over twenty replies from locals. Many lived with their parents but they were still kind enough to offer me a mattress or couch to sleep on.
I told another backpacker at the hostel about my plans and his response was, "It's easy for you, being a girl. You could pick any guy you like and easily have sex with him if you wanted to."
He told me that he too had been looking for a host to stay with but from the sounds of it, he had been much more selective about it than I had been – he'd been going through all of the female profiles for the area and sending requests to the ones he deemed attractive.
Where Things Start To Get Creepy
CouchSurfing's official line is that the website is to be used for those seeking friendship only and contacting members for dating is considered harassment. However, this hasn't stopped people from actively seeking out sex from other CouchSurfers.
Scouring CouchSurfing for sex is publicly endorsed by the much maligned Roosh V and his forum provides likeminded men with a space to exchange tips on how to pick up CouchSurfers. If this isn't disturbing enough, I found one thread entitled "Bangs from CouchSurfing" where members discuss the overall attractiveness of female CouchSurfers and even post up individual profiles to be rated by other forum users.
Some excerpts from the website:
"Listen, the times I went out with a single girl on CS, it worked out fine, often ended up making out. But I have also wasted nights out with girls who were taken and thought it was going to be innocent fun."
"It's an easy way of getting women over, they are most of the time very easy to bang – but ugly as hell."
And from Roosh himself:
"CouchSurfing has the ugliest girls of any country."
A More Traditional Type of Cultural Exchange
While there is nothing wrong with having sex with another CouchSurfer (if you click), there is something fundamentally wrong with treating the site solely as an outlet for sex.
It can be argued that many people stay at hostels with the same intention but hostels are neutral spaces with staff you can go to for help and you can easily leave if you feel uncomfortable. The same cannot be said if you are sleeping on a stranger's couch.
Most CouchSurfers are looking to experience and learn about different cultures and it would be a shame if people were turned off after having negative experience with members only interested in sex.
As with any website, people need to exercise caution when meeting people through CouchSurfing. Where possible, it is always a good idea to meet up in a public place before agreeing to stay at someone's place or have someone stay at your own place.
I didn't end up staying with a host in Brazil as I arrived in Sao Paulo later than planned but I am positive that most of the locals offering me a place to stay were genuine and did not hold any ulterior motives. Most travellers I've spoken to have had overwhelming positive experiences with CouchSurfing and it is still something I would like to experience one day.
If the circumstances were right, having sex with someone from CouchSurfing is something I would be open to. But hanging out with a creep who has carefully screened my profile and thinks I owe him? Definitely not.
Anneliese is a travel blogger from Australia. You can read about her travels on her blog All Signs Point To Yes.
About the Author
Anneliese is a blogger from Australia who writes about her travels on her website All Signs Point To Yes. You can read more about her sexcapades here, here and here.