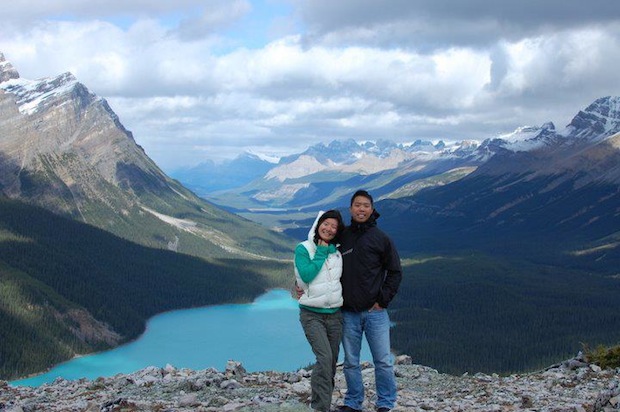 This is an interview with Kevin & Lily, who run the sweet & charming Kevin and Lily In Transit. I met Lily on my first day in Japan years ago, and I was happy to see that she was still traveling the world. In between their travels, I managed to track them down and ask them about their take on traveling as a couple.
L: Hello, I'm Lily and I like spending my time dreaming about my next travel destination when I should be thinking about other things.
K: Hi, I'm Kevin. I'm the total opposite. I like to think about other things while I'm travelling, like what I will do with my life after travelling? The scenery and food changes are bonus.

How long have you two been in transit?
L: We've been in transit for over 3 months now, if we're talking about Asia. But we've actually been travelling for more than 5 months starting from the day we left Vancouver.
What made you decide to leave?
K: Well, I had just finished up my Master's and Lily was at a job where it was fairly easy to get a leave. We thought that this would be the best, if not maybe the only, opportunity we'd get to travel together for such a long time. So we packed up our car to the brim and sold whatever stuff we couldn't fit and drove back to Toronto, which is where we're both originally from.
L: Of course, we couldn't let a road trip like this pass without making it the ultimate road trip we've ever taken! We first drove over 10 hours north to get to the beautiful mountains of Banff and Jasper, and then trekked it all the way down south to the California coast to L.A before starting the long drive across the States and finally into Canada. We made sure to make pit stops along the way to check out some really remarkable things like the Grand Canyon and the Balloon Fiesta in Albuquerque!
K: However, that's not to say that we've left Vancouver for good. We love Vancouver and it's still a possibility in the future.
Why travel as a couple?
L: Because it's better than travelling by yourself. We have so many inside jokes because of the happenings of this trip. It just wouldn't be the same if there was no one there to laugh about them with me.
K: Because I had to…haha. (Lily rolls her eyes). It's about experiencing new things with the person you love. Also, it gives you the chance to try a greater variety of food since you get to eat half of each other's.
Are any countries or areas you'd recommend for, say, a very romantic date?
L: There was a day in Phuket Town, Thailand which I thought was quite romantic. We had rented a motorbike for the first time and took that baby out to see the Big Buddha up in the mountains. There's something about sitting on the back of a bike with your arms around your man's body that just feels good. Plus the lush green scenery and view from the mountain top was spectacular. We went back into town for dinner and we were in street food heaven! There were vendors lined up side by side on the streets selling delicious local food that didn't put a dent in your wallet. It might not be everyone's cup of tea since it definitely wasn't your five-star restaurant atmosphere, but it was raw and grungy and I loved it.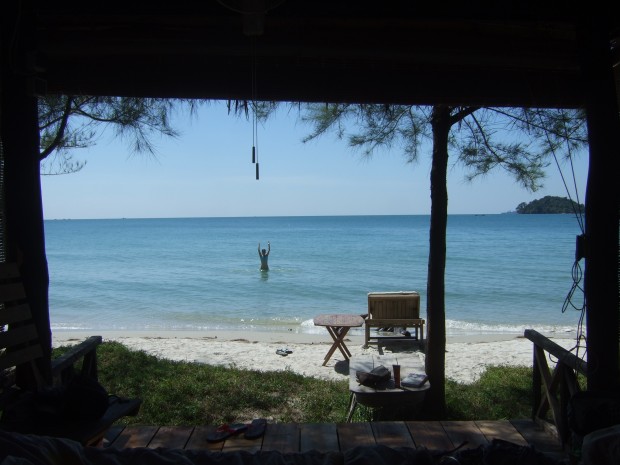 K: My pick goes to Otres Beach in Sihanoukville, Cambodia. It's a more secluded beach
where you get to spend more personal time with one another without other tourists taking pictures with you in the background. The water was beautiful and the coast seemed to go on forever. There were huts situated along the beach right beside the ocean, although I would not recommend these huts if you're a light sleeper. There were other beach bungalows less than 50 meters from the water which were much more comfortable and still very accessible to the beach. We were also able to rent a motorbike and watch the sunset on our ride to dinner in town.
How about places that turned down the sex drive, so to speak?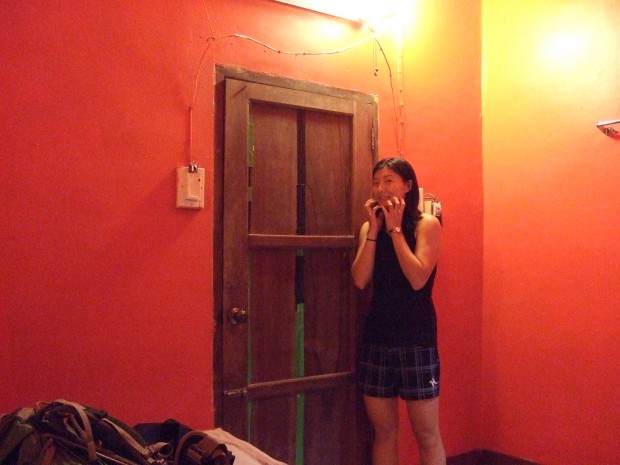 L: I would say that in hostel rooms that were really dirty, or when we were too cheap to get an air-conditioned room and we were sweating just sitting there.
K: Yea, at times we were too tired from a long day's travel to find an ideal room to stay. Sometimes you start to smell some "off" things which definitely doesn't up the mood for romping.
Speaking of romping, any hotspots? Tips you have for other couples who might want to be adventurous?
L: I suppose that depends on what puts you in the mood. For us, when there's beautiful scenery, delicious food, and a day where we haven't been busily running around sightseeing are prime romping conditions. Oh, and air con also helps, as does a clean and easily accessible shower.
Where are you headed next?
L: We're heading back to the beaches of South East Asia next. Not exactly sure where yet, but we're thinking the islands of Malaysia and Thailand for some diving and relaxing.
What's one last piece of advice you'd give other couples traveling the globe?
L: Be flexible – both with your travel plans and with each other. Most of the time, we didn't know where we would be sleeping until we got there, and it has always worked out. *Knock on wood*
K: Make sure you have a roll of toilet paper with you at all times. It's 50/50 whether toilets have it, especially in Asia. Plus it comes in handy when you go to food places that don't provide napkins.
L: We can always count on you for the most practical advice.
Are you a traveling couple in need of sharing a good romp story? Or maybe you have a lot so share, but don't have the strength to write up a guest post for us? Contact us and be featured in our ClubTSL Interviews!
Please be sure to check out more of this adorable couple at Kevin & Lily In Transit!