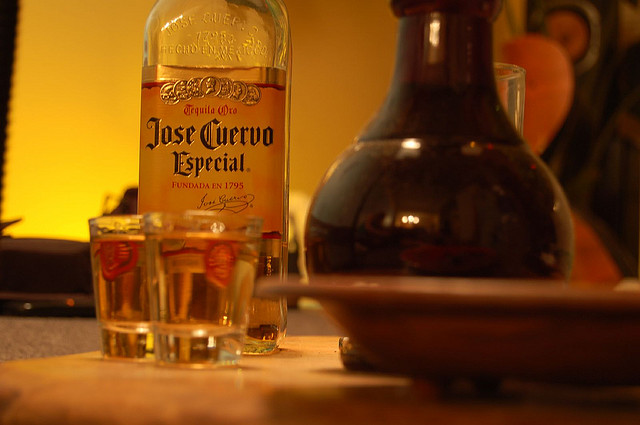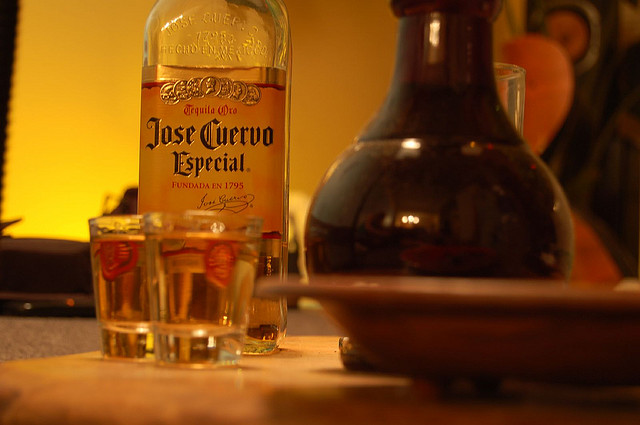 It was a bizarre night at the Weary Traveler in Tulum, Mexico. Dubstep thumped loudly through the speakers, accompanied by throbbing strobe lights and the oohs and ahhs of too-many-people lubricated with 2-for-1 happy cuba libres from the hostel bar. That evening's entertainment was a circus performance, consisted of four guys rhythmically throwing pins in the air, interjected with behind-the-back throws and around-the-wrist twirls, while a perfectly fit Mexican woman with perky breasts walked around bare-chested, painted in swirls of white and blue, asking for donations in a glass jar labeled "Tips."
I was sitting at the far end of the long row of picnic tables that comprised the hostel's main seating area. Barely able to make out the jugglers from where I sat, I focused on playing Fuck The Dealer and an unnamed card game which required a lot of yelling and swearing with a group of Brits.
"I hate jugglers," a freckled guy from Manchester remarked while dealing the cards.
"You Brits are so negative," I teased playfully. "They're not so bad," I said only to emphasize my point.
As the words escaped my lips, a juggler emerged from the right-hand side of the stage, donning a unicycle which he pedaled back and forth, while juggling pins that another guy tossed to him from across the stage. Admittedly intrigued by the spectacle, my attention began to drift away from the game and before I knew it, I had left my seat and made my way toward the stage for a closer view.
That's when I saw him.
He wore a patterned, neon-colored board shorts and a bright purple vest over a plain white t-shirt. Sipping on my fourth cuba libre that night, I watched him mechanically twirl and throw pins in the air. I was drawn to him. I don't know how long I stood there watching him wide-eyed, mouth slightly open in a perpetual aah, but when he cast a sideways glance and our eyes met, I realized I had been staring. Embarrassed, I diverted my gaze toward the ground.
Later that night, I walked to the store across the street and talked the store owner into illegally selling me a bottle of $25-peso tequila well past the liquor sales curfew. As with almost every night I spent traveling through Central America, I planned to spend that night, more or less, wasted. Standing in front of the hostel discussing which bar to go to first, I swigged cheap tequila from the bottle, my face souring, as I quickly washed it down with coke.
"Does anyone want some?" I offered with a hand cupped over my mouth, feeling the tequila burning its way down my chest.
"I have some," I heard someone behind me say in a heavy accent.
I turned around to come face to face with the juggler from earlier that night. He smiled, revealing deep dimples on either painted cheek, reaching for the bottle before throwing his head back as he took a long swig of tequila.
"Adonde vas?" he asked as he handed the plastic bottle back to me. Where are you going?
"I… I don't know," I said, stammering, as warmth crept onto my cheeks – a mixture of blushing and the infamous Asian-glow. This blunder haunted me as I watched him walk away with his circus friends.
As fate would have it, however, we would cross paths at Papagayo. Feeling sufficiently inebriated, I was determined to redeem myself. I wobbled my way over to him and made small talk in perfect Spanish.
"I like you hair," he whispered while tucking a strand behind my ear, "it's big." I giggled.
Before long, we were dancing, hotly, to the beat of reggae, twirling to salsa and making excuses to touch each other, until the music stopped and the lights flickered open.
"Voy a mi casa. Quieres ir conmigo?"I'm going home. Do you want to come with me? 
I imagined his apartment would be filled with tapestry and flamboyantly-colored fabrics hanging from the ceiling and draped over the walls. We would find his other circus friends passed out on the floor, as we tiptoe over beer bottles, accidentally kicking them around and making too much noise. We would kiss passionately upon entering his room, bumping into colorful walls and almost tripping on juggling pins, as we made our way to his old, springy mattress plopped on the floor next batons and a unicycle. After ripping off our clothes, I would talk him into giving me a private juggling show in the nude. The next morning, I would wake up, groggy, smeared in face paint and he would teach me how to ride the unicycle back to the hostel, shouting encouraging phrases in Spanish.
Before I could respond my friend approached us and coaxed me to go back to the hostel. "I have to go home," I said, as my friend tugged at my wrist, trying to pry us apart. He planted a soft kiss on my lips and said, smiling, "maybe tomorrow?" I nodded.
The next evening, he made his way over to me at the hostel bar and kissed me on the cheek. He asked how the rest of my night went and made jokes from the night before in Spanish. But I could barely make out his words, I was sober and the moment had been lost. Staring at the red circles painted on his cheeks, I smiled and excused myself to play Fuck The Dealer.
About the Author: Ara-Danielle Uniza
Ara-Danielle Uniza is just an ordinary girl going through a quarter life crisis. After leaving her life in Boston, she has since spent her time traveling and finding ways to avoid going back to the real world. Her current goal in life is to travel around the world, with hopes to pick up a few things about love, writing and life on the way. You can follow her on her blog, Girl Plus World.
cc amarette