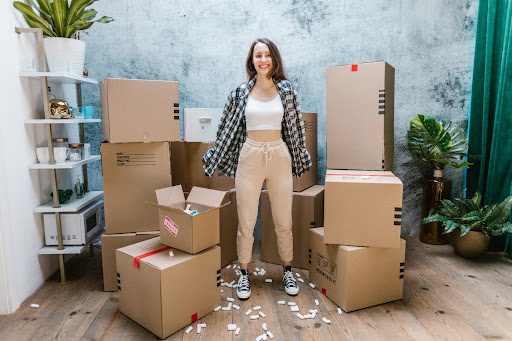 Moving is undoubtedly a mentally and physically stressful ordeal, but does it always have to be? According to data on American homeowners who moved last year, 44% cried at least once during the moving process. On the flip side, 65% felt excited or happy. These contrasting experiences suggest that there is a right and wrong way to move. Luckily, the following article contains common moving mistakes you can avoid to enjoy and streamline your journey.
Doing Everything Yourself 
Moving your entire life to a different place is a highly challenging journey, especially if you're moving long distances. You must clear all your belongings, pack them, and take them to a new destination. Will you be able to drive thousands of miles with your furniture after spending sleepless nights packing everything? These challenges have frustrated many homeowners who moved last year so much that they consider moving a hassle. However, moving doesn't have to be so hard. 
In such a scenario, leveraging the services of a professional moving company can help take a huge load off your shoulders. You can leave the heavy labor to them and comfortably travel as they safely transport your precious belongings to your new home. The cost of hiring movers varies according to the weight and load of your belongings, how far you're moving, and the area you live in. Suppose you live in Miami, the fourth most expensive city. Since the average cost of living here is 19% higher than the state average, you can expect a higher estimate of around $17,000 to hire movers for a long-distance move. 
However, remember that cheaper isn't always better. Instead of choosing the most affordable local moving company, consider their reputation and reviews. There are many Miami long distance moving companies that you can choose from. Still, those with BBB accreditation and a high rating are the only ones you should consider. Take a local moving company like First Class Moving Systems. Not only does the American Moving & Storage Association (AMSA) accredit them, but they also have 5/5 stars out of 131 reviews.
Carefully choose a long-distance moving company that will safely transport your belongings without a scratch. Why do everything on your own when you can hire professionals to do it more efficiently? 
Procrastinating 
You should put off your tasks for as long as possible when there is so much to do. However, it can become more challenging to start the more you procrastinate. When you're moving, getting everything done before moving day is crucial to ensure everything goes smoothly. Leaving everything for the last moment and packing your belongings in a rush can result in grave mistakes like misplacing important documents or forgetting to pack specific items.
Instead, push yourself to start packing now. The sooner you start, the quicker you'll be done with moving. Why worry about all the work you're supposed to be doing when you can do it? It's okay to feel overwhelmed. Starting small is better than not starting at all. 
Having a rough outline and steps can help you mentally plan out the days until you have to move. You can pack room-wise or do the easy chores first, like clearing out the side tables, creating a to-do list, and researching potential movers you'd like to hire. Packing the entire house can initially seem intimidating, but you can choose a starting point like a closet or a room to make it seem more manageable. You can also pack items that you won't need immediately, like seasonal clothes and decorations.
Not Labeling Boxes 
Organizing and labeling your boxes is crucial for a smooth loading and unloading process. It helps you sort similar items into one box, making it easier to pack and unpack. It also makes it easier for movers to place boxes into the rooms they belong in instead of stacking them randomly. Without labeled boxes, you'll have to open each box and sort through every item to find what you're looking for. Labeling your boxes is a small yet significant task that you should not overlook.  
Packing Everything 
Most American households have around 300,000 items. However, is packing all of these items necessary? You have so many non-essential, old, or easily replaceable items that would be a waste of time and energy to pack. Not to mention money, which is why 19% of Americans who moved last year wish they got rid of more stuff. 
The more things you carry with you, the bigger the hassle. To avoid packing unnecessary items, you should first declutter. 
Start by clearing out items that you last used a while ago and don't see a use in the near future. Toss out or donate old bedsheets, towels, or pillows. You should also consider getting rid of some of your clothes if you're moving somewhere with a completely different climate. For example, you can discard a few raincoats and boots if you're moving from Miami to Texas. Considering that Miami is the wettest city in America, with 67.4 inches of rain recorded every year, you'll need to get new clothing that suits the arid weather conditions of Texas.
However, many people make the mistake of keeping items because they think they'll use them in the future. To avoid this issue and prevent yourself from hoarding, try the 5-second rule, where you discard an item if you can't think of when you last used it within 5 seconds. This technique is also a great way to decide which outfits to remove.
Not Preparing Supplies Beforehand
Imagine running out of boxes as you're packing and having to run out and buy more. You should have all the supplies ready before you start packing. Otherwise, you'll waste precious time. Some of the essential moving supplies you should have include: 
Boxes

Tapes

Scissors 

Packing peanuts 

Permanent marker 

Stretch wrap
However, remember to buy plenty of materials and avoid cheap equipment to keep your items secure. For example, old, low-quality boxes might tear and damage your belongings. 
Conclusion 
Moving can be a smooth and fun process if you avoid the mistakes highlighted in this article. Relocating to a new home is the start of a new life and should be a positive experience for everyone. So, why let a few mistakes spoil your mood and cause stress when you can easily avoid them?