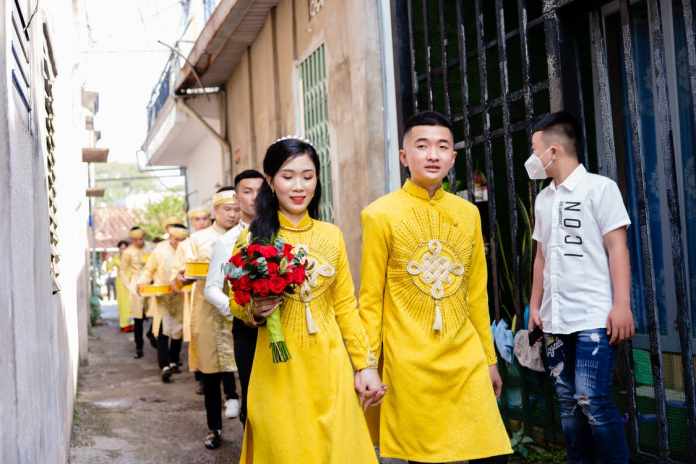 Apart from all the razzmatazz of a wedding, from planning the whole event – from venmue, to wedding hashtag, and to the wedding dress. its great emotional significance makes it one of the standout moments in most people's lives. Here are some unique and unusual wedding destinations that will assuredly make your wedding utterly unforgettable!
An authentic Fijian wedding
Fiji is an island paradise that makes that dream wedding destination a beautiful reality. With more than 300 islands, you are spoilt for choice.
Your guests will love the fantastic surfing, golfing, and many other diversions – like charter-boat island-hopping to discover tucked-away beaches, lagoons, and waterfalls. And what could be more transporting than having your wedding reception next to a beautiful lagoon in a grove of whispering palm trees?
Your authentic Fijian wedding will be conducted according to a traditional format. You and your loved one will be ushered down the aisle by warriors. They will be dressed in traditional warrior regalia of grass skirts, armbands, and anklets, with their faces painted black more info..
You can opt for striking traditional Fijian wedding outfits for bride and groom, or go the white wedding/tux route. A choir will sing a traditional wedding song as you walk down the aisle while flower girls sprinkle flowers before you. What a memorable, powerful, and deeply significant experience!
London's beautiful Kew Gardens
Nothing is more magical than a wedding ceremony in one of Kew's 19th-century glasshouses, the Nash Conservatory. Nestled in the enchanting, world-renowned gardens, it's the perfect location for that most special day of special days!
This classic ceremony is succeeded by a stylish drink's reception, followed by a buggy ride to take you to some of Kew's most picturesque spots for photographs.
Your unforgettable day ends with a splendid dinner-dance amongst 10,000 plants in the world's biggest Victorian glasshouse, Temperate House.
South Africa for the ultimate safari wedding
Is there anything more memorable and romantic than a wedding safari in the wonderful wilderness of the South African bushveld?
You'll stay in the ultimate luxury, comfort, and indulgence of a stylish honeymoon suite. You'll enjoy delicious sundowners against the multi-hued backdrop of a magnificent African sunset, private dinners by candlelight, spa treatments, and plenty of game drives to encounter unique African wildlife.
A luxury safari wedding for Americans in the magical environment of a South African game reserve will seal your love and deep commitment to each other forever.
Hawaii for a volcano wedding
What can be more symbolic than affirming your passionate love for each other than a wedding ceremony next to a fiery volcano? While Kilauea Caldera splashes glowing lava against the sky, you can say the vows that will bind your hearts and lives together.
Hawaii also offers you beautiful scenery, half-moon-shaped beaches, botanical gardens, waterfalls, and world-class cuisine. What more could you need to make your wedding and honeymoon the best time of your life?
Switzerland for a superb mountain wedding
Want that ultimate dream wedding? You can't go wrong with Switzerland! Whether you choose a snowy winter wedding, or a summer wedding set in the breathtaking mountains, it will make your special day completely unforgettable.
Wedding venues range from a castle on a lakeshore, a romantic hotel, a historic vineyard, to a mountain hut in the snow. Just take your pick for the most sublime wedding you could possibly want!
The British Virgin Islands for a private island wedding
Think it's impossible to have your wedding on your own beautiful private Caribbean island? Think again!
The stunningly beautiful Peter Island in the British Virgin Islands offers you options galore with a variety of wedding packages to choose from.
You can select one of five beautiful beaches for the ceremony. You can even charter a private yacht, with all meals and drinks for you and your guests included for five nights – including cocktails on the beach and a complimentary couple's massage.
And with all the arrangements taken care of by the friendly and experienced Peter Island wedding team, you and your loved one can just relax and enjoy this most memorable of occasions.
Paradise Island, Bahamas for an underwater wedding at Ruins Lagoon!
Could anything possibly be more unique than exchanging your wedding vows underwater in the Ruins Lagoon? The Atlantis Resort on Paradise Island offers you this unique option in a venue that imaginatively evokes the Lost City of Atlantis.
A certified diver who is authorized to perform the wedding ceremony conducts the unique underwater ceremony. Guests see the whole ceremony from a viewing room so they don't get their wedding finery wet!
After the ceremony, a whole hour is allocated for underwater photos and videos to record this unique experience forever. Thereafter you are pampered at Mandara Spa before enjoying the intimate wedding reception with your guests.
Near or far, choosing a unique and unusual wedding destination will go a long way toward making it an occasion that you will treasure for the rest of your life. And in the case of these cool locations, your guests certainly will too!