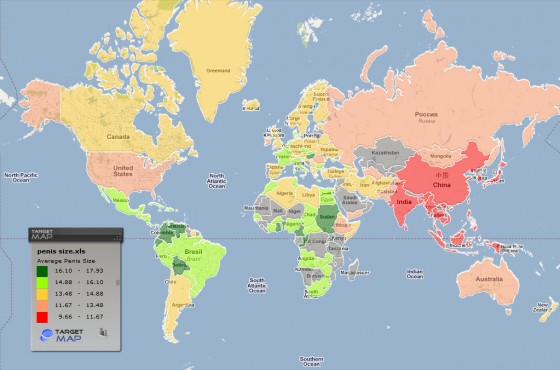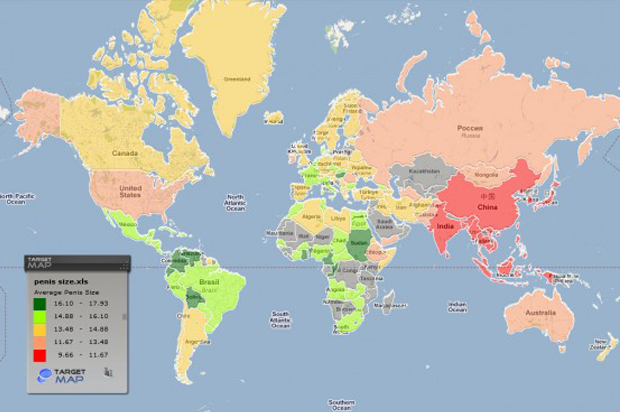 We came across this map of average penis size across the globe on TargetMap.com. The map reveals that Sudan, Colombia and Hungary boast the world's best endowed men. While India, China, Japan and much of South-East Asia rank at the bottom of the list. Not content with the stats alone we turned to our favourite female travel bloggers to get their take on the matter.
We put the following question to them:
In your experience, does male endowment really vary between countries?
"I would speak about continents and regions rather than countries. Haven't even tried Asians because of the obvious reason, but Latino guys are "bigger" and together with Scandinavians they know exactly what they are doing. Otherwise both Europeans and the Americans differ from individual to individual."
"Although my experience between countries isn't that "large", I'd say that no, there seems to be no variation between countries. Where i've noticed a difference is what some men from some countries do with their endowment!"
'American's definitely seem to be 'bigger' whilst Europeans I slept with were 'average', which suited me – they certainly knew what they were doing with their equipment. I can't say it varies between country to country though – I found most men were about the same size, but as the saying goes 'size doesn't matter, it's what you do with it that counts'!
The Male Perspective
And we can't forget to get the men's point of view. The above map was released detailing exact measurements of men from different areas of the world. Check out some of the reactions that were found on a Chinese internet forum:
"Korea's plastic surgery industry is well developed, every Korean man buy a rolling pin and stuff it in."

"Brother [referring to self] has examined innumerable AV [adult video] films. Foreigners are very long before the act but their endurance when actually having sex is actually short."

"It doesn't have to be thick, as long as it fills it up. It doesn't have to be long, as long as it can go in."

"That's not right, I'm 19cm, but not a single woman says I am big, and I've asked several. They say their ex-boyfriends were 22 to even 25cm."

"Brother [referring to self] is 20cm. Brother is successful! Wahaha!"
If you're looking to get with an international man, make sure you check out our series on condoms from different countries, as different and colorful as the men themselves! Part I Part II Part III Part IV Part V