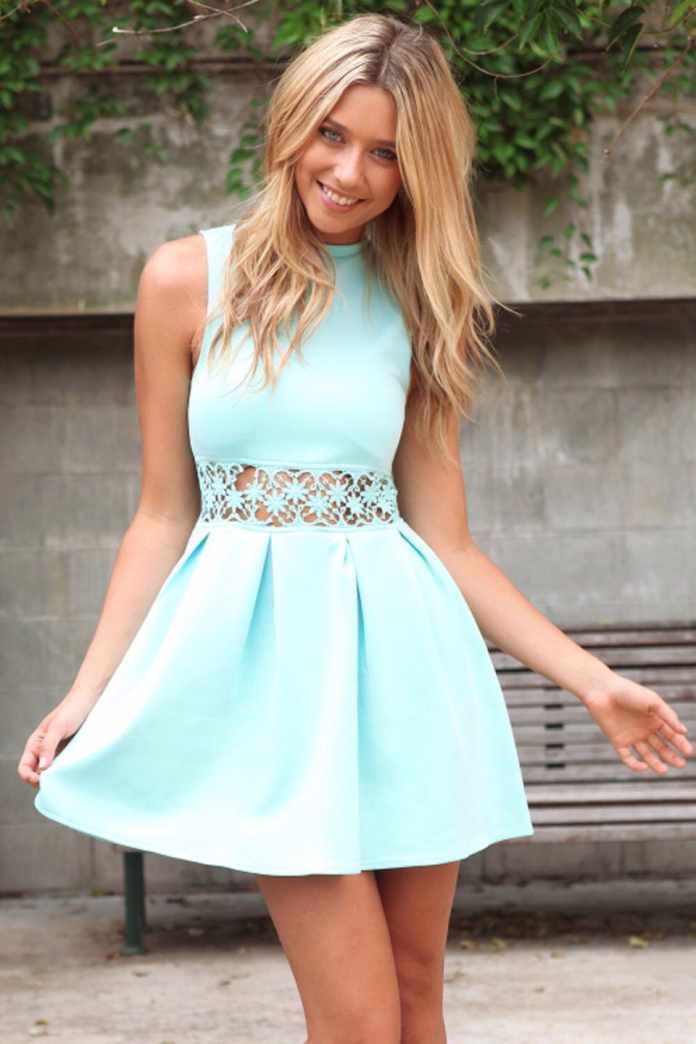 Rhinestones are undoubtedly fashionable and sexy, and when extra details are added with rhinestone tassels at the hem of the dress, you'd have a dress that looks particularly dazzling and charming. More still, if the dress is body-hugging and has an asymmetrical hemline, it automatically switches up the party vibes and gets you club or party-ready.
Having dresses with rhinestone embellishments in your wardrobe is an addition you would always appreciate getting. Rhinestone dresses never go out of fashion because they are fit for you to wear in all seasons. A sparkly bodycon rhinestone dress can serve as a cute and sexy evening dress; club dress; party dress; birthday, date, and holiday outfit amongst others.
While it's normal for rhinestones and glitters to shed off a dress when it's still new, when you're trying it on, or even when you have it on your body, it's not pleasant to have your shiny and eye-catching dress littering everywhere with the glistening details. Guessing you don't want the charm of your sexy rhinestone dresses to fall off, this guide will come in handy to help make them more fun and practical to wear.
How To Apply Rhinestones On Your Dress
The different kinds of rhinestones demand different methods for fixing them. Because of this versatility, even glue which is the most common application choice may not work on some dresses. Wondering what other ways you can apply rhinestones or retain previous rhinestones on your dress? Let's get in!
1. Retaining Hotfix Rhinestones
Some rhinestones, especially the flat back stones, come in hotfix form. This means that there is a heat-activated fabric glue on the back of the stones. These adhesives can be activated and affixed on your dress using a household iron. If you are applying rhinestones on a fabric industrially, then you could use a hotfix tool or a heat press. The fun part about hotfix stones is that they are dual-function and can also stick to a dress with non-hotfix means. Hence, you may use fabric glue on the adhesive part of the hotfix stones to affix them back on your dress.
2. Affixing Non-Hotfix Rhinestones
Non-hotfix rhinestones are also flat back stones just like the hotfix ones. The difference here is that the non-hotfix lacks the fabric adhesive which can be activated with heat. When the stones fall off, they would appear plain so each stone can be secured onto your dress with a dot of fabric glue. This is probably the easiest and most common means of affixing rhinestones on your dresses since you mustn't use fabric glue; project glue also works.
3. Metal Flat Back Rhinestones
The metal setting on some flat back stones helps provide a more secure hold on your dress while serving as decorative pieces. Just like any other rhinestones, they can still fall off and their impacts on a dress are easily visible. These metal rhinestones have prongs at their backs just like the prongs of a diamond in a ring. To put back these stones, place them on the right side of the fabric, pull the prongs onto the back side, and then fold them around. If the prongs are broken already, you can use glue to get them on. You can do this just like with the non-hotfix rhinestones.
4. Sew On Rhinestones
Sew On stones can be manually fixed onto fabric. These rhinestones have small hidden holes with discreet channels to pass across the needle and thread when hand-sewing the crystals. Using this method to retain the rhinestone appliques of your dresses may not be the easiest but it's very fashionable to have them on. Again, you can also use glue for these stones; just make sure that the holes at the top and bottom of the stones do not become visible.
Most Common Reasons Why Your Rhinestones Are Falling Off (Even When You've Tried Holding Them Up)
1. The Surface Of Your Dress Is Not Clean Enough
If you've tried getting rhinestones back on your dress with glue or a hotfix method but had them falling off again, then it may be that the dress was not porous, dry, or clean. If the dress isn't porous enough, it may not retain the glue well enough. To test for this, put a few drops of water on the dress to see if it sinks. If it does sink, then the problem is from the stones or you didn't add enough glue. Roughing up the surface of your dress with a sandpaper or nail file gives a textured surface for the hot fix glue to grab onto especially if the dress is difficult to work on. Ensure you wipe off the loose dust after sanding so the stone sticks directly to your cloth.
2. Slow Down When Using Hot Fix Glue
If you're using a hotfix tool, then you would need to hold onto the crystal until the glue begins to wet before you can apply it to the dress. Placing one tip of the crystal before the other also helps to prevent air from getting between the back of the rhinestone and your dress. If you're using a household iron to fix the stones, ensure that the cloth is well straightened before you drop the stones on the dress. You may have to wait a bit longer to make sure that the stones are fully affixed.
3. Don't Be Too Slow With Glue
Glue begins to dry once you've put them on the crystals so place them quickly. To know how long your glue takes to dry out, put a drop on a crystal and watch as it dries out. While doing this, watch out for the time frame it takes to dry, then work with this period for fixing the rhinestones onto your dress.
4. Rhinestones Shedding From Friction
If the seating area of your dress is decorated just like in a full rhinestone dress, the crystals may shed because they are subjected to friction. They can get rubbed on office chairs and car seats, so there's no real solution for this. The only thing you can do here is to avoid surfaces and areas that can stress the dress.
Closing Notes
You can keep rhinestones from falling off clothes and retain more of them on your dresses without having them scattered all over the place with any of the means mentioned above. From the very common and versatile glue tips to the hotfix and sew-on methods, you'd come to love your rhinestone dresses even more.
Fashion decoration for a skirt that is not easy to fall off and damage
If you think some garments are designed to be easily damaged, consider custom patch accessories. Customizer GS-JJ told us: "The patches are always on trend. Our customers order jackets, bags, hats, jeans, beanies Custom patches for beanies, and uniforms. These patches are well designed and come in different backings to match any outfit." Your jackets, skirts, hats? shoes, and more can be updated with new custom embroidery patches decorations of any shape and size, Give new vitality and fashion ideas to your outfit.