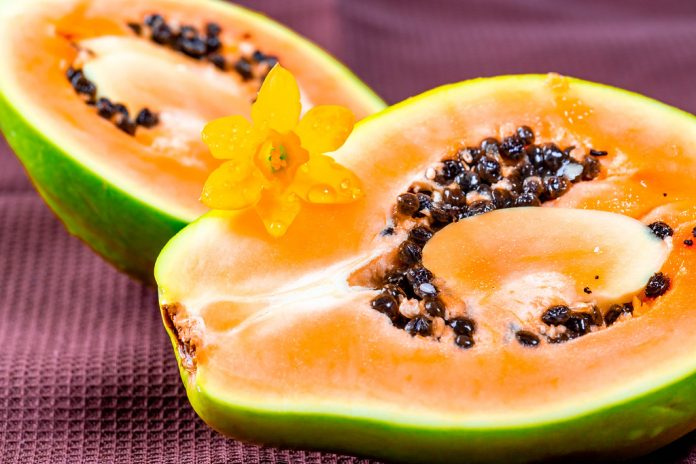 If you are someone who wants to get in shape, vouches for a better skin texture or craves smooth hair, then you have arrived at the right article. In this blog post, we will explain to you how papaya benefits your skin's texture, weight loss regime and hair growth.
Papaya Facts
A serving of papaya consists of 140 – 150 calories
Papaya seeds can be used as an alternative to black pepper
The fruit has an enzyme called Papin which is well-known to be a natural meat tenderizer
Papaya is known for increasing immunity and makes digestion better
Papaya is an excellent source of antioxidants, vitamin C and vitamin B
Above are a few facts and benefits of papaya. Keep reading ahead to unveil all the papaya benefits in the next 10 minutes.
Papaya for skin
When it comes to skincare, you can't just rub anything on your skin. However, papaya is one fruit that has shown excellent results when it comes to skincare and nourishment. Called the "fruit of the angels" by Christopher Columbus, Papaya has various medicinal and nutritive values.
The mashed form of papaya is known to help in treating wounds and preventing infections. It also works well when it comes to making anti-ageing pastes and creams as it contains vitamin C, vitamin E and antioxidants like beta-carotene. More details visit here.
Papaya also works as a natural cleaner. You can simply take a piece of papaya and rub it on your face to get a naturally hydrated and fresh skin. It helps you in removing the dead skin layer and lets your skin breath. So stop spending money on artificial cleansers. Make it a routine to use papaya juice/pump at least 2-3 times a week for fresh-looking skin. This is one of the significant papaya benefits for the skin.
Papaya is known to help people with pigmentation. If you have an uneven skin tone, papaya is your go-to friend. Just apply it for a month or so, and you would start seeing the pigmentation fade.
Papaya has enormous benefits when it comes to acne and pimples. As a major problem for teenagers and many adults, acne can cause anyone to panic. However, with its chemical properties, papaya helps in reducing acne and its marks efficiently. All you have to do is to apply papaya juice for 10 minutes every day, and you would see those scars fading.
If you are someone who spends a lot when it comes to bleaching or waxing your facial hair, then papaya is your savior. It is known to remove small hair from your face without any pain or harmful effects. However, that is not it. Papaya is also useful in the treatment of eczema and psoriasis.
We know you are overwhelmed with all the papaya benefits for skin. So here are a couple of method, recipes, and mixes which can help you fix your skin problems in a few applications:
Papaya with Honey: Make a smooth paste of papaya and two tablespoons of honey. Mix them well and apply on your face and neck for a smoother skin
Raw papaya with Cucumber: Take a grated cucumber and mix it with papaya pulp. Once done, apply it under your eyes rid of your dark circles
Papaya pump with olive oil: Can be used to target and reduce wrinkles
Turmeric powder with honey and four cubes of raw papaya: This mix can help you in reducing tan and blemishes
Papaya with curd and turmeric: This mix can help you fight pigmentation and uneven skin tone
That is all for the papaya benefits for your skin! Do try one of the above mixes for healthier-looking skin.
Moving on, we know how many concerns you have when it comes to hair. Hair fall, dandruff, split ends and dry hair are just a few problems for today's generation, which is always too busy to take care of their hair.
Hence, a couple of next paras enlist papaya benefits for hair to help you find the right natural remedy for your hair related concerns.
Papaya Benefits for Hair
The first and foremost benefit of papaya is that it boosts hair growth. Well-known for containing folic acid, papaya application helps in improving the blood circulation in the scalp and hair follicles which eventually helps in hair growth.
If you are someone who hates dandruff coming on your shoulders and forehead, then papaya has got you covered. As one of the significant papaya benefits, it is well known that papaya can help in reducing the dryness of the scalp. Also, due to the anti-fungal properties of papaya, common fungal diseases and dandruff can be reduced by regular application of papaya.
We know you are tired of spending on conditioners which do make your hair look smoother but render more harm than good in the longer term. So if you are looking for a natural alternative of your conditioner, papaya is unbeatable. With high water content and vitamin A, papaya helps in keeping your hair nourished and naturally smooth!
Papaya mask
Below are a couple of methods, recipes, and mixes which can help you fix your hair related problems in a few applications:
Egg and Papaya: Whisk egg in one bowl and mask papaya in the other one. Mix them well. Apply this mix for 30 minutes and then wash it with a mild shampoo. Do this once a week, and you would feel the difference in your hair pretty soon
Avocado and Papaya with Honey: Scoop the fleshy part of papaya and avocado. Blend them in a blender and add a tablespoon of honey. Apply this mix for 40 minutes once a week to boost hair growth
Papaya and Lemon Juice: Mix these two ingredients and apply once a week for 30-40 minutes. This helps you in getting rid of dandruff
Papaya seeds with papaya: Just blend the seeds with the fruit itself to make a paste which will help you with scalp dryness
Coconut milk with papaya: Mix them to help your hair get all the natural nourishment. This paste forms a natural conditioner for your hair.
Alright! That is too much information. We know it is unbelievable how a single fruit can give so much value. But as we quoted earlier, papaya is the king of fruits. However, there is another papaya benefit that we are missing on to, and that is weight loss.
Papaya benefits for weight loss
Papaya is known for three essential qualities, that are:
Low-calorie count
A high amount of antioxidants and minerals
High Vitamin A content
Which makes it an effective part of any weight loss diet!
Whenever you try to lose weight or get in shape, You must realize that weight loss is best done holistically. You cannot go on crash diets and expect the results to last long. This is where papaya benefits come in the picture.
It is one fruit that will keep you full while giving you the right mineral and vitamins that your body needs. Starting with the seeds of papaya, papaya seeds are known to have fat absorbing properties which solves the problem of excessive weight gain and bloating for many. Hence, including papaya in your diet plan will help you in shedding those kilos without much of an effort.
Papaya and weight loss facts
Below is a list of papaya benefits (nutritional) for weight loss:
Papaya is high in fiber. This means that it will help you in being full for a longer period of time. This will cut on to your cravings and help you in avoiding junk food.
Papaya fights inflammation as it is rich in antioxidants (papain).
Constipation? Not any more! Papaya helps in healing stomach ulcers and helps with constipation. This is because it contains papain and chymopapain, both of which aid in digestion. Papaya is known to keep your stomach clean. So whenever you plan on doing interim fasting, papaya can your best friend.
Papaya helps in the absorption of one of the major elements of foods, and that is protein. Some fitness enthusiasts mix their protein powder with papaya to make an extremely healthy smoothie. The reason behind this mix is the absorbing properties of papaya.
The anti-viral and anti-parasitic properties of papaya help in fighting infections.
We have listed some recipes and mixes that might help you consume more papaya on an average:
Raw Veggies with Papaya: If you are a salad person, this recipe is just for you. Toss some veggies and papaya in the spices that you like for an excellent taste and better health.
Papaya in Milk and Chia Seeds: If you are a morning smoothie person, this recipe is for you! Just add these ingredients to the blender and enjoy your daily dose of health with the papaya smoothie.
Papaya Juice: If you are in a hurry, you can also carry papaya juice with you. It is easy to make and high on health.
We have also prepared for you a holistic papaya plan to help you use it for your skin, hair, and health every week:
Morning:
Start your day with papaya. Prepare a papaya mix for your scalp and apply it through for dandruff free smooth hair.
Have a papaya smoothie for breakfast to help you feel fresh and light.
Afternoon:
If you are an office going person or a student, carry some papaya for your lunchtime. This will help you in keeping your stomach full and avoid junk food.
Evening:
If you could not have your morning smoothie, you can always carry your papaya salad to your workplace. This will help you in staying light and avoiding the evening office munching.
Night:
Once you get home from a hectic day at work, apply a papaya mask on your skin. This will leave your skin fresh and hydrated. Keep it for 20-30 minutes and wash the pulp with lukewarm water.
By following the above plan, you would be able to use papaya for your skin, hair, and health in a single day.
Yes, your 10 minutes read is finally over. We have tried to cover most of the benefits and recipes/mixes of papaya to give you a complete picture. Make sure you try them and start your journey of having longer hair, healthier skin, and better shape in 2020! It is very important to keep your goals clear which starting any such journey.
Make sure you follow the following steps to amplify the effect of your new papaya routine:
If you want to leverage papaya benefits, you must maintain your overall health and hygiene.
Do not consume junk except on cheat days.
Cover your hair with a piece of cloth while traveling in public transport. This will protect your hair from damage and pollution.
Clean your skin before applying the papaya mask. This will remove all the dust and makeup (if any) from your face.
Do not add too much sugar or honey in your smoothie. Keep it healthy and nourishing.
Do not try to overeat for fast for too long. Remember, anything consumed in excess can be harmful. Make sure you keep this in mind while trying various papaya mixes!
Make sure to wash your hair with a mind shampoo in order to garner the papaya benefits. Strong shampoos with sulfur are more harmful for your hair.
Do consult a doctor before doing any of the above. An expert's advice is always better and more accurate.
Do not add to much salt to your papaya salad. This way, you will increase the overall sodium level in your body.
When adding other ingredients to your papaya mixes, make sure that you are not allergic to any of them.
Do exercise at least three times a week. This will help you in managing your weight and aid your diet control measures.
We wish you luck!