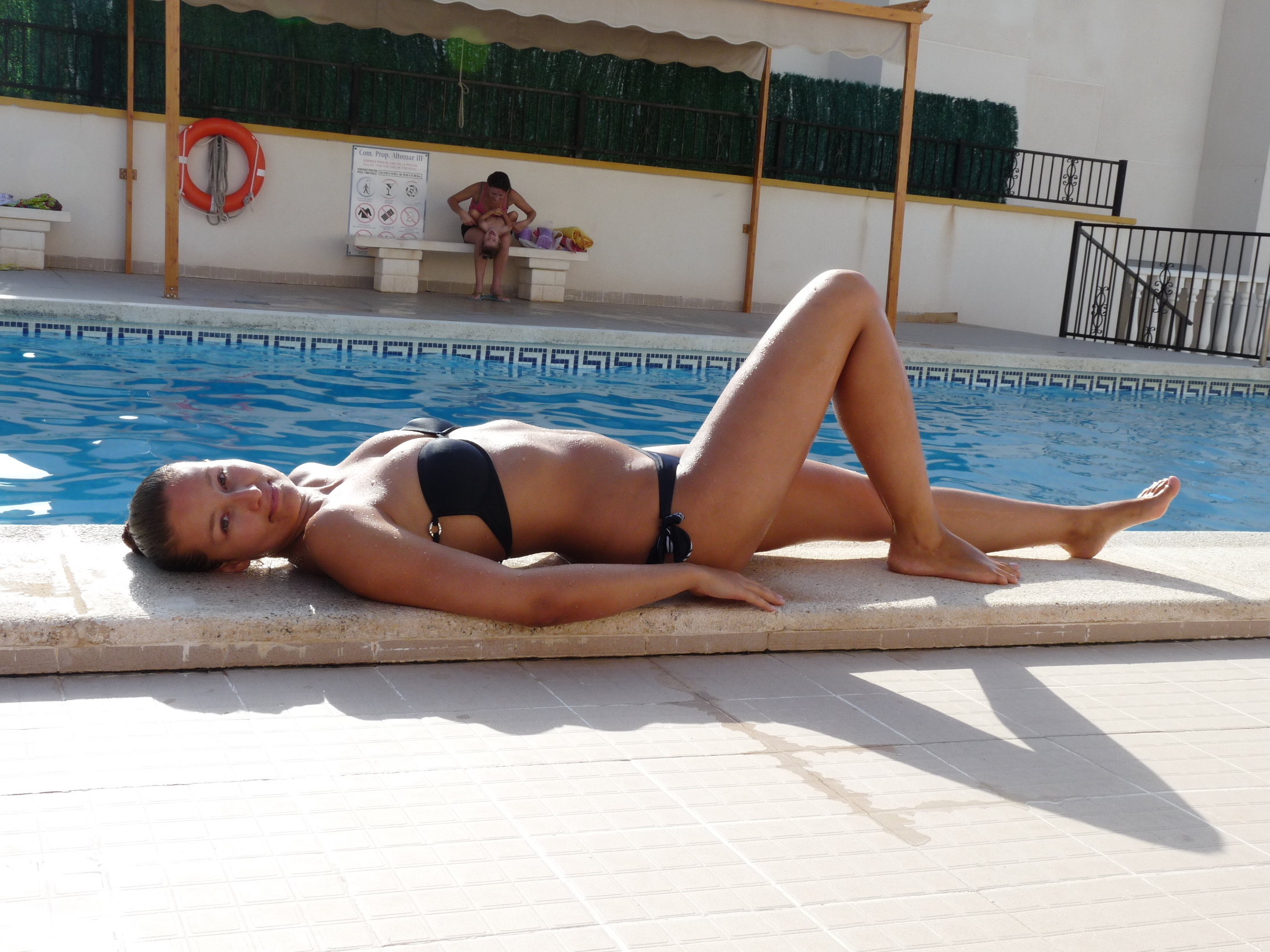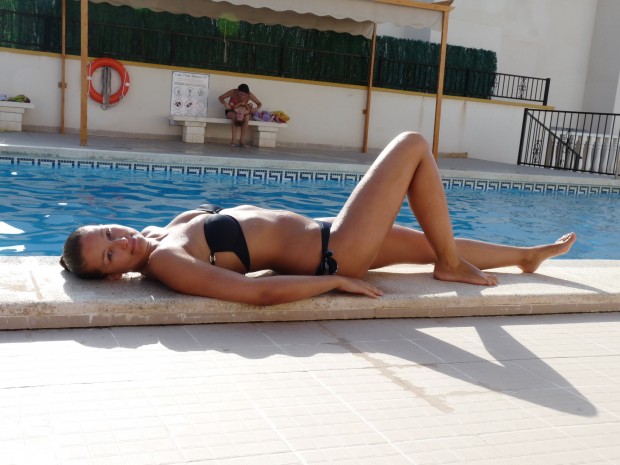 While waiting at the bus station of Rio Gallegos, I found myself thinking of a topic for this post. Then it hit me: I love water.
Beaches and swimming pools are my favourite places to spend time.  Now of course, the more curious among you may have already noticed this due to the large number of photos of me in bikinis on my facebook and website. However, what you might not already know are the following three personally promiscuous stories which took place in swimming pools all around the globe. Are you ready? I'm about to "float" your boats.
Let's talk swimming pool sex antics.
Hot Spring Sex
Picture the scene. I'm 17, in Slovakia and dating a boy whom I hadn't seen for an entire month.  It was the longest relationship I'd been in and I was really looking forward to see him again.
It was still when we were very much in love at that time. We went to pick him up at High Tatras with his parents and finally bring him home for a couple of days where I knew he could once again be all mine. Then, to enjoy the sunny day we decided to spend a couple of hours at the hot springs there. As it was a perfect day for swimming, the pools were full of people.
Well you can imagine how we both felt after 30 days alone and without seeing each other. Calling that a dry spell just wouldn't cut it.
Desperately looking for a place for us to be alone, but trapped by the fact there were people everywhere, we decided to go for it. Jumping into the pool and surrounded by hundreds of people, we just enjoyed each other right there.
I don't even think anyone saw us. At least once we were all done, I looked around and everything was as before. People were swimming, playing around and jumping into the water. Needless to say I didn't have a camera with me at that moment so photos of that golden moment are indeed scarce!
Spanish Swimming Pool Sex
A couple of years after that first story, I was still in love with swimming pools. Taking place not in Slovakia but in Spain, this one needs a longer explanation.
I remember how we met. It's a funny story. This guy is a famous singer and we knew each other for probably 3 or 4 years from the internet but never before had a chance to meet. Then one time – when I wanted to surprise my friends – I tried to get us all tickets to his concert on the day we were in town for holidays yet all the tickets were sold out. Opting to spend the day on the beach we thought up an alternative plan for the night instead.
And so yeah. You can imagine 3 single and lonely girls together. We began commenting on the sexy guys in the sea.
Suddenly I looked at the people next to us on the beach, and they were making faces. Quickly realizing that they must have understood us, we got talking and found out that they were Czech and had been living in Spain for years. As one of my friends was Czech, they'd heard us speaking and now wanted to find out more.
It turned out the people we were talking to were the mother and the sister of the famous singer I knew from the internet but had never met in person. What happened next though? Possibly more than just a coincidence.
Calling him, the mother and sister bagged us free VIP tickets to his concert the same night. You can imagine how happy we were! Was I finally going to meet him?
The concert was amazing, but afterwards he had to leave for Mexico. It would seem that the stars weren't aligned for us that time around.
Yet when we came back to Spain again for another two week holiday (which the whole time I spent texting him), I found out he was back in town already.
Inviting my friends and I for a BBQ, we arrived at their horse farm and the object of my desires started preparing the BBQ. I was in the swimming pool a mere five minutes after we'd arrived and began swimming around. Naturally I took it to the next level. I began eating him with my eyes.
I admit it, his body was the best! Rippling muscles and bronzed to heaven!
Once we finished the meal, he jumped into the pool and started flirting with me. As everybody loves my accent, no matter which language I speak, he came very close to me and listened to me talking.
My other friends were winking at me from the sunbeds just 4 metres away. That was my sign just to go for it. The weirdest thing though? The guy's sister and brother were just a metre from us in the pool. But who cared! Some things you just have to do, right?
Admittedly, it wasn't the best sex ever, but a very interesting time for sure. His brother was diving all around us looking for a ball he'd dropped into the murky water.
Luckily nobody noticed that time. Everybody thought we were just kissing.
Frolicking in the Philippines
The third swimming pool story happened in the Philippines some 16 months after the Spanish story. It involves a friend of mine with whom I had the best relationship ever. Yet (as is often typical of these kinds of relationships) he wanted more.
One night, two cousins of my friend invited me, her and another friend for dinner and some drinks. Afterwards, at around 3.30 am, we were all in good mood so the cousins decided to go for a dip in the pool. As is always the case, I wasn't against it.
My friend was so tired that he went to sleep on the sunbed. The rest and I were having fun in the swimming pool, when suddenly I saw one of the cousins getting half-naked. I was super happy.
He looked like Vin Diesel and I loved it!
He swam towards me, hugged me and started kissing me. I had no idea he also liked me – but just next to us, on the sun lounger, was my friend half-asleep. Well it felt weird to continue upward to seventh heaven so unfortunately, that early morning swimming pool story didn't quite have the happy ending of the others.
I'll leave that for my next visit to the Philippines!
About the Author: Alexandra Kovacova
Crazy girl who made traveling the reason of her life. I live to travel, I travel to live!