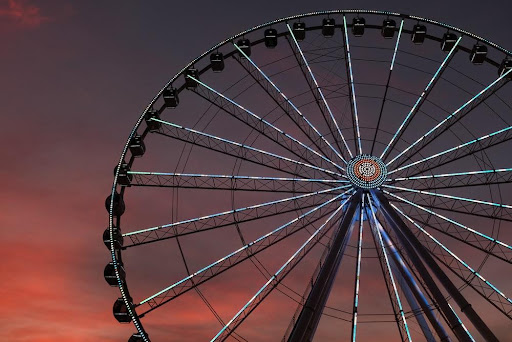 Ah, Pigeon Forge, the gem of Tennessee! It is known for its stunning natural beauty, warm hospitality, and a multitude of activities that could keep even the most energetic tourist busy for weeks. But let's face it, when you're in a place this amazing, you want to make every second count, right? So here it is—the ultimate guide to having the time of your life in Pigeon Forge while steering clear of the spots you'd rather avoid.
To give you a bit more context, Pigeon Forge is not just any travel destination; it's a hub of excitement, culture, and natural splendor. Tucked in the mountains of Tennessee, it serves as a gateway to the Great Smoky Mountains National Park, one of America's most visited national parks. Imagine waking up to the scent of fresh mountain air and the serene beauty of the Smokies as your backdrop—it's an experience unlike any other. It's a city that offers the perfect blend of adventure and relaxation, catering to a wide array of preferences, whether you're an adrenaline junkie, a nature lover, or a foodie.
Over the years, Pigeon Forge has evolved to become a diverse and inclusive hotspot for tourists from around the globe. It beckons with its Southern charm, promises thrills with its amusement parks, and delights food connoisseurs with its delectable cuisine. This guide aims to offer you a curated list of experiences that ensure you squeeze the best out of your time here without stepping foot in places you'd rather not visit. So, without further ado, buckle up for an itinerary packed with all the must-dos and must-sees, carefully handpicked to offer you the ultimate Pigeon Forge experience.
Steakhouses in Pigeon Forge: Where Meat Lovers Rejoice
For the carnivores among us, Pigeon Forge offers a variety of steakhouses that will satiate your meat cravings. Alamo Steakhouse is famous for its big Texas-sized portions and specialized steak seasonings. Bullfish Grill offers an experience that is a perfect mix of casual and classy, with mouth-watering steaks and an array of fine wines. The variety and quality of steakhouses in Pigeon Forge make it a must-visit destination for meat lovers looking for a culinary adventure.
Embrace the Great Outdoors at the Smoky Mountains
The Great Smoky Mountains are a treasure trove of natural beauty. Hiking here is an adventure in itself, with trails that cater to every skill level, from beginner to advanced. But it's not just about hiking; wildlife watching is another popular activity. You can spot bears, deer, and a variety of birds in their natural habitat. And if you're looking to unwind, there's nothing like a day spent fishing or enjoying a peaceful picnic amidst the stunning landscapes.
If you're not into hiking or wildlife spotting, fret not. The Smokies are versatile, offering plenty of other activities like fishing in the abundant rivers and streams or enjoying a serene picnic with the backdrop of spectacular mountain vistas. With its lush landscapes and limitless outdoor activities, the Smoky Mountains offer an unparalleled experience that captures the essence of what makes Pigeon Forge a destination worth visiting. So pack your hiking boots, grab your binoculars, and get ready to embrace the great outdoors like never before!
Get Your Adrenaline Pumping at Dollywood
Dollywood is a theme park that offers a blend of thrill and culture. The roller coasters and rides are not for the faint of heart but offer exhilarating experiences that you won't forget anytime soon. The park also offers a unique cultural experience with live music and performances. Artisans are also a common sight, skillfully crafting souvenirs that you'll cherish for a lifetime.
Get Lost at The Island in Pigeon Forge
The Island in Pigeon Forge is another must-visit. With the Island Show Fountains that provide an impressive display of water, lights, and music, and the SkyWheel that offers panoramic views of the area, this place is a spectacle. It's also a paradise for shoppers, with a variety of boutiques and specialty stores where you can indulge in some retail therapy.
Cruise Along the Parkway
Driving along the Parkway is like stepping back in time. You can take a pit stop at the historic Old Mill for some authentic Southern cooking or swing by Patriot Park for some much-needed relaxation. If you're not in the mood for walking, various car and buggy rentals are available to make your exploration more comfortable and stylish.
Tee Time, Anyone? Mini Golf Galore
If you're a fan of mini-golf, Pigeon Forge won't disappoint. Professor Hacker's Lost Treasure Golf offers an adventurous setting complete with replicas of ancient ruins. Crave Golf Club, on the other hand, offers a sugary paradise, resembling a candy wonderland where you can play a round or two.
Round Off with Some Retail Therapy
For shopaholics, Pigeon Forge offers plenty of opportunities for retail therapy. The Smoky Mountain Cat House is the perfect destination for cat lovers, offering a plethora of feline-themed items. And for those looking for some Western flair, Stages West is the go-to place for boots and cowboy gear.
Final Thoughts: Make Pigeon Forge Your Playground
And there you have it! A perfectly curated itinerary to help you experience Pigeon Forge in all its glory, from morning till night. Whether you're an outdoor enthusiast, an adrenaline junkie, or a foodie looking to enjoy some exquisite steak, this place offers it all. The steakhouses in Pigeon Forge alone could warrant a trip, but let's not forget the natural wonders, the thrilling theme parks, and the local shopping experiences that make this city a complete package for any traveler.
If you're seeking a destination that offers a balance of action-packed adventure and tranquil relaxation, Pigeon Forge stands out as an ideal choice. The city's eclectic mix of activities ensures that no two days are alike—unless you want them to be. Every visit presents an opportunity to explore something new or to revisit favorite spots and create new memories. And let's not forget the welcoming community adds a touch of Southern hospitality that makes every moment even more special.