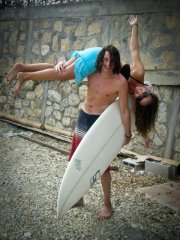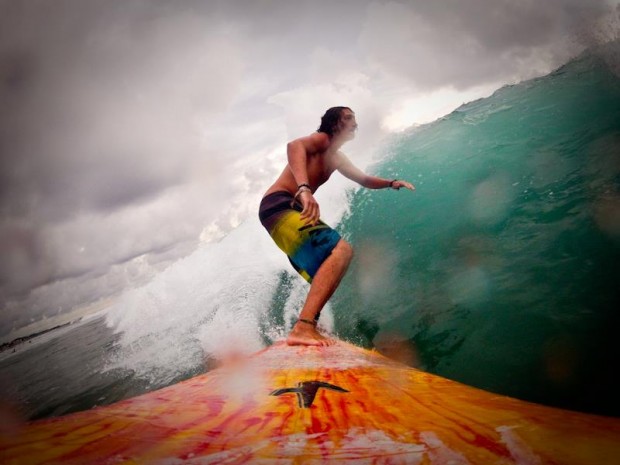 There are certain professions in the world that have gained a reputation for being sexy. A large proportion of these are uniform based; firefighter, soldier, doctor, lifeguard etc. Being a professional sports person of any degree is sure to get the ladies attention too…well unless of course your chosen sport is something like chess (sorry chess guys, I have nothing against you, you just haven't really found a way to make it sexy yet – hold on in there though, your time will come!).
And failing being a professional sportsman the next best thing is to be an instructor. I have no idea why being an instructor has that kind of appeal.
Maybe it's because they're slightly more accessible, still of high sporting standard, generally pretty good people persons and because you get to spend a lot of time one on one/in close contact/actually physically guiding you.
Whatever the reasons behind it the sports instructors of the world have it pretty good with the ladies. These observations were all very clear to me when I trained as a surf instructor and beach lifeguard – they weren't however the reason behind taking a slight career change! I had a girlfriend at the time, so it didn't really cross my mind.But when I became single the prospect of exploring how well this stereotype could work in my favour being instantly appealing!
So one night I decided to undertake a mini experiment – I went out with my buddies with no intention of chasing women, but fully intent on getting drunk. Only this time I wasn't wearing a shirt or posh trousers – I went out in shorts, flip flops and wearing my surf instructor tshirt!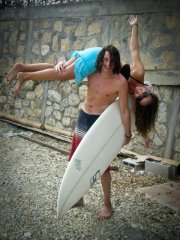 When I woke up the next day and found a random female in bed next to me I realised I'd opened pandoras box.
The shirt worked! From all recollections I hadn't approached any girls, they'd come to me – and well if someones flirting with you it's simply bad manners not to flirt back!
Now giving that train of thought to a 24-year-old is a very dangerous move by any degree. Take that mindset and drop it into Montanita, Ecuador with 28degree heat, various states of undress, a litre of beer at $1, cocktails at $2.50, pumping surf and it becomes a receipe for hormone fuelled chaos.
And then up the stakes even more by giving aforementioned, rebounding surf instructor a job which also involves working at a hostel with a revolving door of international ladies (a large proportion of whom are Scandinavian!) and…welll…I'm sure you can see where this is going!
Now 2012 was supposed to be ruled by the mantra "waves over babes". I was going to surf and enjoy life with no ties. And for the first 4 weeks I did pretty well. I flirted, I danced, but I kept my bed as my bed. I surfed all day, partied all night and life was good.
Then one weekend the surf dropped off and, well…the shit hit the fan!
I woke up next to a naked Dutch girl and realised I was on a long skin on skin descent into the stereotype of the loose moralled life of a surf instructor!
The next few weeks snowballed and I soon became aware of the fact that the surf instructor card made life heaps easier.
The fact that I'm surfing 3-4 times a day, eating super healthy and topping up my tan too means I'm in the best shape I've been in for a while and I'm rocking out the sun kissed surfer curls with vengeance.
Carnaval stepped it up a notch though and even I was beginning to wonder if I was making some ill informed lifestyle choices when I noticed a group photo of a night out – and I'd slept with over half of the girls in the picture. Whoops!
Since then I can't say I've really slowed the pace – lets be honest how much longer am I going to be a surf instructor in my mid twenties with nice curls…you've got to make hay while the sun shines.
So I'm currently making my way around the world via my Montanita bubble…at the moment I'm enjoying the joys of Switzerland. This lifestyle has certainly added a few more countries to my bucket list, and a whole heap of free accommodation along the way – I've got to hand it to the European ladies though, I didn't realise the opportunities that lay on my doorstep!
So this brings me back to what it is (if anything) about being a surf instructor that gets me laid. I just couldn't put myself in the mindset of a girl to answer this question, so I did what anyone would do. I called over three of my most recent bed buddies, and asked them. What I didn't expect was for the three of the to start discussing among each other what it was that made them sleep with me. An equal mix of awkward and awesome while I was basically putting my manhood on the line (figuratively speaking). Still no definitive answer but a moment well worth it… and the surf coaching was brought up more than once!
So clearly you can't blame me for all this chaos, or for reinforcing this image of surf instructors – none of this would be possible if the girls weren't so easily impressed by it.
In conclusion life is good. Being a surf instructor is an epic job. The ladies are gorgeous and I'm having heaps more travel sex than ever before. See you in the lineup!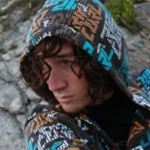 About the Author: Chris Stevens
Surfer, Photographer, Traveler, Writer and Apple geek blogging over at BackpackerBanter.com – started my latest RTW trip on Jan 4th…first stop Ecuador 🙂