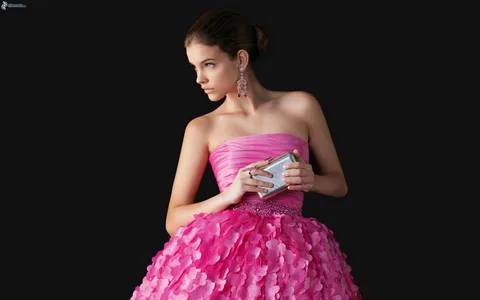 Picking out the perfect outfit is sometimes one of the most exciting parts about birthdays. The joy that comes with celebrating your special day in an outfit that you totally love is second to none. Birthdays are special occasions that call for a celebration in style, and what better way to make a statement than in a stunning dress and accessories? With every passing year, new trends emerge, giving us a chance to try out new and unforgettable looks.
There are lots of details and styles of birthday dresses that make us feel confident, glamorous, and stylish in them. From bold colors to intricate cut-outs, the designs keep evolving to cater to all kinds of fashion tastes. What sets a birthday outfit apart from your other special clothes is how you wear it, the fit it gives you, and the way it's accessorized. Jewelry, shoes, and handbags are some common elements that if styled properly can transform an outfit and make it truly stand out. 
Over here, we'll take a closer look at the latest trends in birthday dresses and also share some tips on how you can accessorize them to create a sleek look on your special day. You may be planning a small gathering, a casual night out with friends, a big bash, or even a fancy dinner party, we have some outfit inspos that you would love to try out. Stay with us!
Current Trends In Women's Birthday Dresses
The trends in women's birthday dresses are all about having fun, feeling confident, and marking the occasion in style. There are lots of options that will make you feel glamorous and stylish, but the most important thing about looking peng on your birthday is to choose a dress that makes you feel your best. Ready to make your birthday outfit one to remember in trendy new pieces, let's dive right in!
1. Bold Colors: 
This year, bold and vibrant colors are taking the scenes, from bright pinks and oranges to deep reds and purples, all bold colors are having their moments. These eye-catching hues will certainly make a statement and add a fun pop of color to any birthday outfit.
2. Off-Shoulder Styles: 
Off-shoulder dresses have always been a popular dress style because of how feminine and flattering they can be. They come in a variety of styles, but the fitted silhouettes are all over the trends.
3. Cut-Outs: 
Strategically placed cut-outs add a touch of edginess and intrigue to any birthday dress. This daring trend has been gaining popularity for the past few years and they continue to be a popular choice for birthday outfits. 
4. Sparkle and Shine: 
Rhinestones, sequins, and all the shimmers you can think of will always be fun dresses for your birthday outfit. A little bit of sparkle and shine from glitters and metallic fabrics can amp up your looks and they're not leaving the trends anytime soon.
5. Statement Sleeves: 
To add drama and a bit of interest to your dress, you should opt for bell sleeves or puffed shoulders. These statement sleeves are a trend that adds a unique and eye-catching element to a dress without going overboard.
How To Accessorize Birthday Dresses For Women
Accessories can elevate a birthday dress from ordinary to extraordinary. And even if your dress was already extraordinary, they're sure to step up the dress even more. Accessorizing a birthday dress is fun to do, plus, it lets your personal style shine through. The key to winning your ideal looks is to opt for accessories that make you feel confident and comfortable. Here are some tips on how to create a complete and polished birthday look with accessories:
1. Jewelry: 
Whether it's a necklace, earrings, bracelets, or all at once that you want to style, jewelry pieces are lovely accessories on most dresses. If you want some drama for your ensemble, go with statement pieces, like chandelier earrings or a chunky necklace. But if you want something elegant and calm, choose delicate pieces, like simple stud earrings or a cute pendant
2. Shoes: 
The right pair of shoes can make or break a birthday outfit. High heels and pumps are always a classic choice of footwear, but if you want to tune in to a more comfortable option, go with flats, low heels, or strappy sandals. 
3. Handbags: 
A clutch or small purse is enough to carry a few essentials. Choose a bag in a coordinating color or pattern as your dress or opt for a statement bag with a unique texture or design and certainly in a bold hue.
4. Hair Accessories: 
A sparkly headband or a flower clip can add a fun and festive touch to your birthday outfit. You can also go extra with a fascinator or a feathered hairpiece.
5. Makeup: 
Another way to accessorize your birthday dress is with your makeup. You can opt for a bold lip color or a dramatic eye look. Just so you don't overwhelm the look, try to keep the rest of your makeup relatively neutral.
Closing Notes
Wrapping up, birthday dresses and accessories can take your outfit to the next level and create a statement that will make you feel confident and pizzazz. Asides from choosing fun dress styles and accessories, everyone loves a dress that retains its quality and flair even after the birthday celebrations. For this, we're recommending SunsetFashionLA. They're an online fashion boutique for women that specialize in quality and affordable dresses and accessories. You should really consider getting your birthday outfits from them for a unique and unforgettable birthday experience.