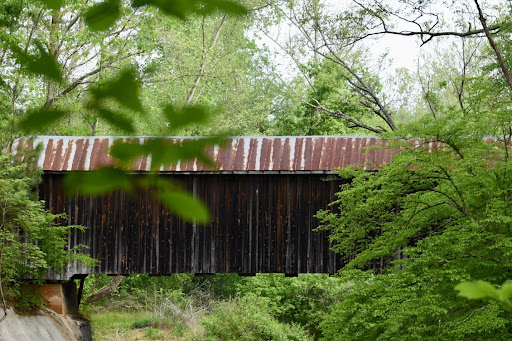 Are you ready to escape the hustle and bustle of city life and immerse yourself in the natural beauty of the Appalachian Mountains? Look no further than Murphy, North Carolina – a hidden gem just waiting to be discovered.
Tucked away in the rolling hills of western North Carolina, Murphy is a town enriched in history and surrounded by stunning landscapes. With a thriving arts scene, friendly locals, and plenty of outdoor recreation opportunities, no wonder why it's becoming an increasingly popular travel destination.
In this article, we have listed the top reasons why North Carolina's Cherokee County deserves a place in your destination list. 
A Home Away from Home: Cozy Cabin Rentals in Murphy:
After winning the battle with the trout or a strenuous hike, you probably want to recharge yourself. Luckily, the town offers plenty of cabins to relax and unwind. 
Whether you are visiting Murphy on a family trip or looking for a romantic getaway, you'll find the perfect cabin waiting for you. Many Carolina cabin rentals are equipped with amenities like hot tubs, game rooms, and stocked kitchens. Enjoy the breathtaking mountain views as you sip coffee on the porch in the morning, or spend a romantic evening with your loved ones in front of the fireplace.
You can select the ideal home base for your trip from the cabin rentals available, ranging in size from one to multiple bedrooms. Many cabins are also within walking distance from downtown, so you can take an afternoon walk if tempted to see the City of Flowers or want to indulge in local cuisine. 
Unwind Yourself in Nature's Paradise:
Murphy may be the place for you if you've ever wanted to escape to the mountains for a relaxing evening away from the crowded cities. The lovely town nestled in the mountains will offer peace and tranquility.
Located in the heart of the Appalachian Mountains, Murphy is surrounded by astonishing natural scenery. The town offers breathtaking views and endless opportunities for outdoor recreation.
Nantahala National Forest is one of the highlights of the area. It covers around half a million acres and boasts miles of hiking and biking trails. Visitors can enjoy a stroll or a challenging hike, taking in the fresh mountain air and stunning vistas while exploring the forest.
For a fun family activity, you can battle with the fishes in the Hiwassee River. The river is a widely popular spot for fly-fishing in the region, filled with trout and smallmouth bass. You can also find an abundance of wildlife in the area, including river otters, beavers, and bald eagles. If you are feeling adventurous, try out kayaking and canoeing.
Visit Unique Local Attractions:
Despite being a small town, Murphy offers incredible experiences and is home to several extraordinary attractions. 
Start with Murphy River Walk, a peaceful path that runs alongside the Valley River and through the center of the town for a truly unique experience. This four-mile stroll has become a Murphy institution and an opportunity to explore the city. It has breathtaking scenery, including waterfalls and historic bridges. The trail is wheelchair accessible and well-maintained, making it suitable for all ages and skill levels.
If you are a history buff, The Cherokee County Historical Museum is a must-visit place. The museum displays the history and culture of the Cherokee nation, including exhibits about the Civil War. Tourists can also discover a collection of artifacts proudly showcasing the art of Native Americans. 
Explore the Arts and Culture of Murphy:
Murphy's thriving arts scene attracts visitors globally and is a vibrant community of artists, musicians, and performers. From painting and pottery to music and theatre, Murphy has something for everyone. 
Take a peek into the town's artistic side by visiting galleries and studios filled with finely-crafted, original pieces of work by local artists. The various styles and mediums on display range from traditional Appalachian crafts to modern abstract art. You might even come across a piece that speaks to you and makes you want to bring it home as a memento of your journey. 
In addition to the galleries and studios, Murphy also hosts cultural events throughout the year. If you are in town between May and December, do not miss The Murphy Art Walk. Taking place on the first Friday of each month, live music, refreshments, and exhibitions by regional artists are part of this self-guided tour.
The Cherokee County Arts Council offers various performances for those interested, including concerts, plays, and workshops. You can watch a performance at the historic Hackney Theater, attend a music festival, or participate in a practical art workshop. 
Discover the Delicious Side of Murphy:
Murphy, North Carolina is a foodie's paradise; it offers various delectable dining establishments. You can find everything in this quaint town, whether you're craving farm-to-table fare or traditional Southern barbecue.
Visitors can sample regional specialties like barbecue, fried chicken, and cornbread or indulge in farm-to-table dishes made with seasonal ingredients from nearby farms. Seafood lovers will value the town's accessibility to rivers and lakes, which offer a variety of fresh catches like trout, catfish, and bass. 
Murphy also offers a wide variety of beverages for beer and wine enthusiasts. Visitors can sip on regional wines or locally brewed beer or enjoy a handcrafted cocktail with ingredients from local farms. 
Experience Southern Hospitality:
Have you ever visited a place where you felt like a stranger? You won't face this problem in North Carolina's Cherokee County. 
The locals in Murphy are known for their down-to-earth, friendly demeanor and welcoming spirit. Whether looking for recommendations on where to eat, the best hiking trails in the area, or just some good conversation, the locals are always happy to help. Strike up a conversation with a stranger in a coffee shop, and you may end up making a new friend for life.
Final Thoughts:
Murphy should be at the top of your list if you want a genuine and memorable experience. Murphy has something to offer everyone, from the breathtaking natural beauty of the nearby mountains to endless outdoor activities, historical sites, and more. Visit Murphy on your next vacation, whether you're looking for a relaxing getaway or an action-packed trip. 
So pack your bags, prepare your camera, and get ready for an adventure you won't forget.