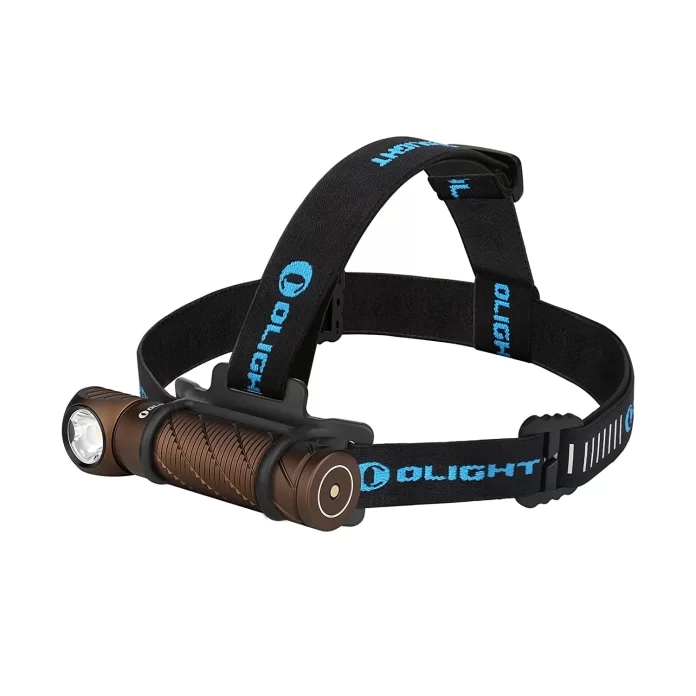 Are you looking for an innovative and powerful headlamp that is convenient to use? Look no further than the Perun 2 Headlamp! It's a perfect combination of enhanced power and hands-free convenience, making it a great choice for outdoor enthusiasts. This versatile headlamp has been designed with a lightweight frame and adjustable angle, allowing the user to adjust the beam according to their needs.
Based on a 4000mAh 21700 lithium-ion battery, the Perun2 is an upgraded version that offers greater power and extended performance than the Perun. The new flashlight utilizes a charging plug that is capable of handling a current of up to 2A. Besides the proximity sensor that dims the light when it senses an obstacle nearby, the Perun 2 function well for both headlamp and handheld light due to its portable design, clip feature, and comfort-grip design. Compared to the Perun, it produces a stronger, more reliable supporting illumination for activities that are performed in the dark.
The Importance of Enhanced Hands-Free Convenience
When it comes to choosing a headlamp, one of the most important factors to consider is hands-free convenience. Whether you're hiking in the dark, camping, or working on a project that requires both hands, having a headlamp that provides hands-free convenience is crucial.
The Perun 2 Headlamp is the perfect solution for those who need to be enhanced hands-free convenience in their daily life. With its powerful beam, this headlamp can provide clear and bright light that makes it easy to navigate through dark environments. Whether you're working on a construction site or hiking up a mountain trail, the Perun 2 Headlamp is an essential tool that can help you see clearly.
One of the key features of the Perun 2 Headlamp is its hands-free operation. This means that you can wear it on your head and use both your hands to perform any task without worrying about holding a flashlight or other lighting device. The headband is adjustable and comfortable enough to be worn for extended periods of time, making it ideal for those who work long hours outdoors or participate in outdoor activities that require good lighting.
Introducing the Perun 2 Headlamp
The Perun 2 Headlamp is the latest innovation in outdoor lighting. Designed for adventurers, hikers and campers, this headlamp delivers premium performance, durability and versatility. It combines a powerful LED light with a compact design, making it the ideal companion for all your outdoor activities.
Featuring an impressive 2500-lumen output, the Perun 2 Headlamp is capable of illuminating objects up to 166 meters away. The rechargeable battery provides up to 66 hours of continuous use on low mode, so you never have to worry about running out of power when you need it most. Plus, its IP68 rating means that it is waterproof and dustproof – perfect for use in any weather conditions. The Perun 2 also comes equipped with an innovative magnetic tail cap that allows you to attach it to any metal surface for hands-free use.
Enhanced Power Output
This headlamp is designed to provide exceptional lighting and optimal visibility, whether you're hiking, camping or exploring caves. With its impressive performance and advanced technology, the Perun 2 Headlamp delivers an unparalleled experience that will take your outdoor experiences to the next level.
One of the key features of the Perun 2 Headlamp is its impressive power output that ensures consistent brightness over long distances. The headlamp features a high-performance LED bulb that produces up to 2500 lumens of light. This makes it perfect for illuminating even the darkest corners of your environment and provides you with a clear vision in low-light conditions.
Hands-Free Convenience Features
If you're someone who loves the outdoors or works in dark spaces, you'll know the importance of having a reliable headlamp. The Perun 2 Headlamp is one such lamp that comes packed with features to make your life easier. One of its best features is the magnetic base, which allows you to attach it easily to any metal surface.
Another great feature of the Perun 2 Headlamp is its durable headband. Made from high-quality materials, this band will hold up even in harsh conditions and won't break or tear easily. This means that you can rely on it for years to come without worrying about having to replace it frequently.
Finally, the firm pocket clip is another standout feature of this headlamp. It allows you to clip it onto your pocket or belt for easy access and convenience when you need both hands free.
The Perun 2 Headlamp has a range of hands-free convenience features that make it incredibly easy to use. For example, it comes with a magnetic tail cap that allows you to attach it to any metal surface, giving you hands-free access to your light source. It also has a built-in proximity sensor, allowing you to turn the light on and off with a simple wave of your hand.
Durability and Longevity
The Perun 2 Headlamp is designed to be incredibly durable and long-lasting. It's made from high-quality materials that can withstand even the toughest conditions, whether you're using it on a camping trip or as part of your job. It's also waterproof and impact-resistant, so you don't have to worry about it getting damaged if it accidentally gets dropped or exposed to the elements.
Olight's 5-Year Warranty 
Customized 4000mAh 21700 rechargeable battery with a maximum output of 2,500 lumens, 25% brighter than the Perun. 
Incredible MCC3 cable with a charging current of up to 2A, increasing charging speed by 33%. 
Conclusion
In conclusion, the Perun 2 Headlamp is an ideal choice for anyone who needs powerful illumination and hands-free convenience. With a range of settings to choose from, it can provide both casual and professional users with just the right amount of light in any situation. It also has a lightweight design and long battery life, making it perfect for outdoor activities like camping or hiking. The Perun 2 Headlamp is a great option for those seeking enhanced power and convenience at an affordable price.